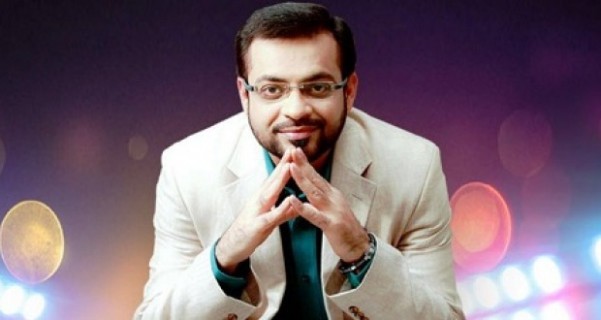 UPDATE: Amir Liaquat fell short on the 44-hour-long transmission, as he could only manage a 33 hours, 16 minutes and 32 seconds at a stretch. Which, we have to hand to him, is an achievement in it self.
May be Amir Liaquat aimed too high, reached too far when he set out to break the record for the longest Ramazan transmission TV. Little did he know that this feet would prove too great for him to achieve.
Better luck next time.
---
Amir Liaquat Hussain, the renowned televangelist is quite popular for his long Ramazan transmissions on TV; he does bizzare things during his highly rated Ramazan transmissions just to reap more ratings and comes out triumphant, every time. This time around, Amir Liaquat is all set to break his own record of doing the longest Ramazan show on TV.
Social media was buzzing with news that the popular TV host is doing the longest Ramazan transmission show for the first time ever in the history of Pakistani television.
Only @AamirLiaquat can do Non Stop Live transmission.well done #AamirLiaquatNonStop you are the one pic.twitter.com/jYSLxrH0gP

— Being Muslim ®™ (@itsAghaFahad) June 21, 2016
Aamir Liaquat made an announced on his Pak Ramazan show recently that he is going to break his previously set record of a 44-hour-long transmission; by doing so the televangelist plans to enter the Guinness Book of World Records.
Thanks my dear brother:) https://t.co/wcuUi2uPCV

— Aamir Liaquat Husain (@AamirLiaquat) June 22, 2016
@AamirLiaquat Only YOU can do it #AamirLiaquatNonStop
May Allah pak give you more strength and protect from all evils 👍📺✌️

— Annie Khan (@anniesk244) June 22, 2016
Just look at @AamirLiaquat's energy! It is incredible, unbelievable, MashaAllah #AamirLiaquatNonStop

— Hasan Ansari (@iamhasanansari) June 22, 2016
@AamirLiaquat Keep it up! We are with you! #PakRamazan is just awesome!!#AamirLiaquatNonStop

— Maaz Hussain (@m_maazhussain) June 22, 2016
@AamirLiaquat Dr Sb you are pride of pakistan we love you

— Syed Gul Muhammad (@syedgul26) June 22, 2016
There are some negative remarks too!
Ramzan transmission on Daewoo: Non-stop Amir Liaqat shows. #puke

— Rabia Mehmood (@Rabail26) August 7, 2013
Most Amazingly STUPID man, If Mufti Qavi and Andaleb Baloch got married their Kids be like Amir Liaqat. #AamirLiaquatNonStop

— Fayyaz Rashid (@FayyazRashid1) June 21, 2016
#aamirLiaquatNonStop from dusk to dawn is he high??

— Maria Sehgal (@sehgal336) June 21, 2016
https://twitter.com/DrAamirFan/status/745549675948695553
It has already been 31 hours to the show which is currently ongoing. Will he be able to pull it off?
Stay tuned to Brandsynario for more updates.