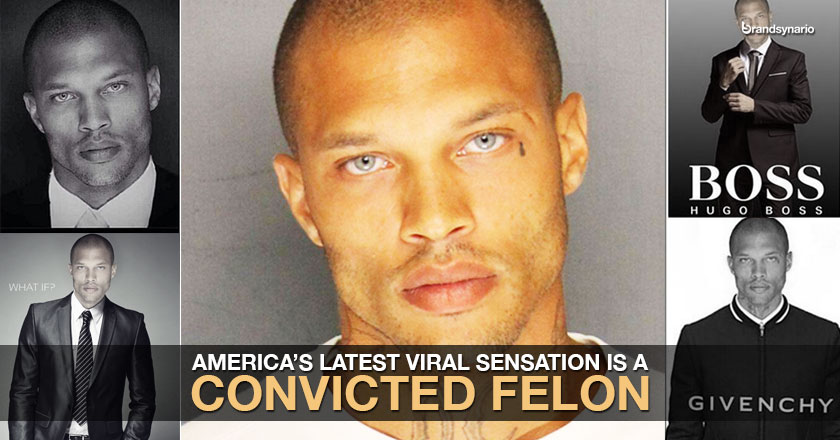 High cheekbones, chiseled jaw and smoldering gaze –no, it isn't one of Hollywood's superstar or some romantic novels' lead character instead, he is the convicted felon of Stockton.
The Stockton Police Department in California released the mug shot of convicted felon Jeremy Meeks, arrested on five weapons charges in the Northern California city of Stockton and the Internet is going completely crazy about it.
On Friday morning, Meek's arrest photo, shared on the Stockton Police Department's Facebook page, gathered 55,000 likes, 16,000 comments and it has been shared more than 6,000 times.
In the model-like mugshot the 30-year-old Stockton felon, the accused weapons offender, stares directly into the camera. Meeks' mug shot has gone viral, drawing comments on everything from his baby blue eyes piercing, incredible bone structure, and chiseled jaw to his career aspirations and tattoos. Since the photo was posted, the online community has also become blazing with memes.
Twitter users have photo-shopped Meeks' head onto Dolce & Gabbana, Hugo Boss and Givenchy Calvin Klein ads.
Y'all so talented RT @FUCCl: #FreeJeremyMeeks pic.twitter.com/duw0BkLTby"

— Yung ButtascotchChip (@Awkward_Duck) June 20, 2014
?? I mean maybe he has a future in modeling if he gets out…#jeremymeeks pic.twitter.com/WmpL8miOqN

— Tia Wong (@tiaalesewong) June 20, 2014
Lmaoo I am sorry I just to laugh at the way his looks could have used in the fashion industry #jeremymeeks pic.twitter.com/shAYHm38Ln

— 2dandee00 (@2dandee00) June 20, 2014
?????? call @hugoboss call @givenchyofficial call @calvinklein #freejeremymeeks #calvinklein #hugoboss #givenchy #je… pic.twitter.com/XD2Z4YU6D6

— Eribe Ramirez (@EribeRami9) June 20, 2014
Some of the top Facebook comments about Meeks' handsome mug shot include:
"Wanna bet he's Hollywood's next star? I can see the headlines: Ex-convict conquers the Internet, Spielberg paid the bail and hired the man." – Filip Alin
"He'll probably have his own reality show in a month!!" – Giovanni Mele
"Maybe the NRA could hire him as a model in their gun adverts." – Linda Dufresne
"He may just have a modelling contract if he wants when he gets free, won't need crime again, he'll be rich!" – Lisa Van
According to Officer Joseph Silva, a spokesman for the Stockton Police Department, no previous arrest photo has acquired so much positive attention.