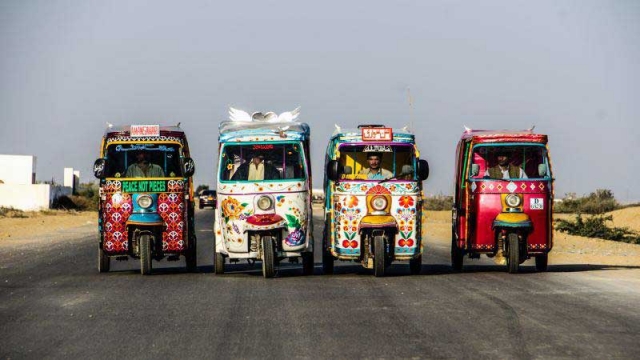 106 views
Recently some of the staff at the US Consulate Karachi took a rickshaw ride for the FIRST time! The staff of US Consulate Karachi is in full swing to learn about the culture of Pakistan and its festivities.
Earlier the US Consulate General Karachi shared a video of four members of their staff enjoying the Rickshaw ride that they have taken for the very first time in their lives. Pakistan's truck art and the rickshaw art are known internationally and many of the countries have inspired from this art to brand their products and companies as well.
Watch the video where the Americans take their rickshaw ride and how do they feel:
[fb_embed_post href="https://www.facebook.com/karachi.usconsulate/videos/10153036650978870/"/]
To learn the diversity and more about Pakistan's rich cultural heritage, the staff has also tried various Pakistani things like Pakistani food and wore Pakistani dresses.
The female staff applied Mehendi on their hands on the occasion of Eid. Here are some videos below:
[fb_embed_post href="https://www.facebook.com/karachi.usconsulate/videos/10153003516638870/"/]
[fb_embed_post href="https://www.facebook.com/karachi.usconsulate/videos/10152946509038870/"/]