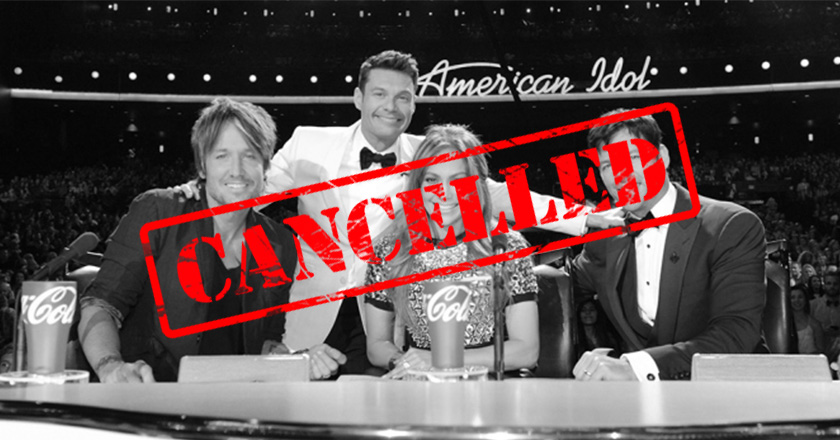 American Idol will be singing its swan song next year. FOX announced on Monday, May 11, that after 13 years, American Idol has finally been canceled. The long-running competition show will be sent off with a final showdown for the country's hottest talent.
Just announced! @AmericanIdol will begin its 15th – and FINAL – season this JAN on @FOXTV?! http://t.co/DLJmi9U3Ff pic.twitter.com/KQffQPjMvn

— American Idol (@AmericanIdol) May 11, 2015
"American Idol will begin its 15th — and final — season this January on FOX," the network wrote in a release. "A season-long celebratory event, American Idol XV will feature host Ryan Seacrest and judges Jennifer Lopez, Keith Urban and Harry Connick, Jr., as they search for the final Idol superstar and pay tribute to the past 14 seasons of amazingly talented contestants and the millions of fans who tweeted, texted and championed their Idols."
Looking back at my time on American Idol we had a great time. We found great artists. Had fun. And to America. Thank you. It was a blast.

— Simon Cowell (@SimonCowell) May 12, 2015
The TV personality first introduced judges Paula Abdul, Simon Cowell, and Randy Jackson, going on to work alongside Kara DioGuardi, Ellen DeGeneres, Jennifer Lopez, Steven Tyler, Mariah Carey, Nicki Minaj, Urban, and Connick, Jr. The trio of Lopez, Urban, and Connick, Jr. has been in place since 2014's 13th season of American Idol. It also kickstarted Ryan Seacrest's career as a host.
yes next year will be our final season of @AmericanIdol 🙁 this show's been a big part of my life for so long… hard to imagine it w/out it

— Ryan Seacrest (@RyanSeacrest) May 11, 2015
American Idol was a reality show juggernaut when it premiered in 2002. Every week, viewers would turn in to see their favorite rising stars perform. Over the years, the judges table changed, but the motive of the show remained the same — find America's next music idol.