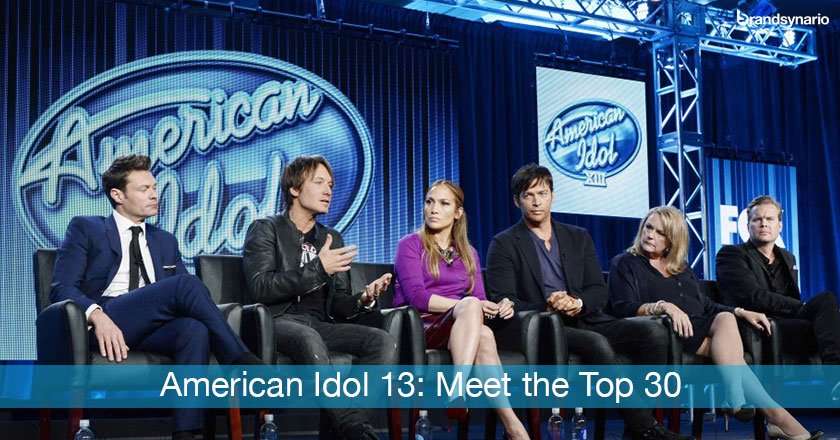 American Idol finalizes its top 30 finalists for the show, with 15 boys and 15 girls that will be performing in the "Rush Week" from this Tuesday.
The 30 finalists during the "Rush Week" will be tested on the verge of their best performances by the judges Harry Connick Jr., Keith Urban and Jennifer Lopez. Although, it all depends upon the performance but to stay within the show, one has to maintain through this Rush Week, as the judges in this particular week are to eliminate half of the contestants, i.e. to announce the final 13 that will make it to the next week.
The stage will be allotted to the 15 lucky boys this Tuesday, while the 15 lucky girls will be on stage this Wednesday, all of them to give their best to become reach the top 13. The top 29 semi-finalists that have as till now made it to the Rush Week include:
Girls (To be performing this Wednesday)
Bria Anai
Andrina Brogden
Jillian Jensen
Brandy Neely
Briana Oakley
Emily Piriz
Marrialle Sellars
Austin Wolfe
Malaya Watson
Majesty Rose
Kristen O'Connor
MK Nobilette
Jessica Meuse
Kenzie Hall
Jenna Aschiutto
Guys (To be performing this Tuesday)
Jordan Brisbane
Ethan Harris
Spencer Lloyd'
Briston Maroney
Dexter Roberts
Maurice Townsend
Emmanuel Zidor
Sam Woolf
Casey Thrasher
Alex Preston
George Lovett
Caleb Johnson
C.J. Harris
Malcolm Allen
While the final 14 guys celebrate and prepare for the "Rush Week", Neco Starr and Ben Briley still wait for the announcement of the final spot for Guys in the top 30. Any one of the two will be crowned the place in the final 30th today on 14th February while eliminating the other one, i.e. as according to viewer's discretion and judge's final decision.
Moreover, there are rumors that this time there might be 31 finalists for Fox news XIII American Idol, instead of 30 as the finalists this year are highly competitive, making it difficult for the judges to chose only 15 from the guys. Judges have how so ever, invited Neco and Ben for their final performances, to decide upon the fate of their selection. Find complete performance's of each semi-finalist here.