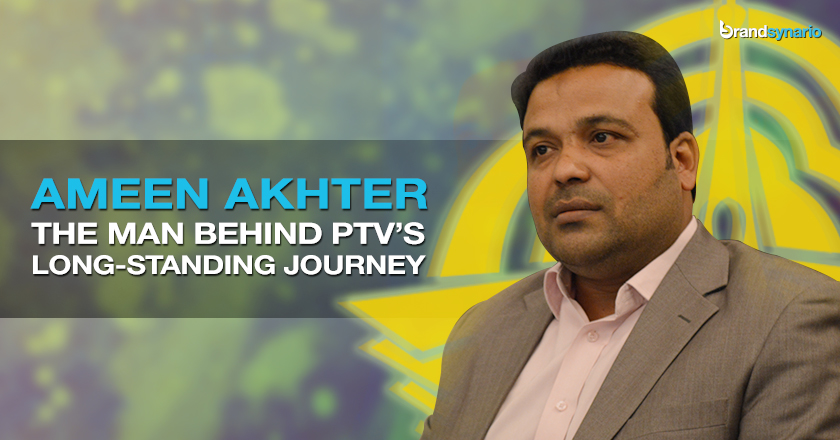 Keeping up the World Cup 2015 fever alive, Brandsynario got an exclusive opportunity to meet one of the most distinguished and respected names in Pakistan's TV/media industry – Mr. Ameen Akhter.
The brain and force behind PTV's long standing journey, Mr. Akhter joined PTV Network as National Sales Manager in 2007. Since then, there has been no turning back for the man who stood against thick and thin to support the national media channel of Pakistan.
Mr. Akhter is currently rendering his services as the Chief Commercial Officer at PTV Network.
Question 1: You have been associated with PTV for almost eight years now, how has the journey been so far?
PTV holds the position of a learning institution and a professional school for majority of the professionals in the media industry of Pakistan who are now forefront in running various private TV networks, production houses, advertising agencies and other media entities.
For me PTVC has been more than a school as it has rather been a life changing institution for me. When I left ARY Network to join PTVC in 2007 as National Sales Manager, I immediately realized that this would prove to be the best decision of my career.
PTV is blessed with technical, infrastructure and human resource and it is indeed the most powerful media entity in Pakistan which only needs the right direction and leadership to redirect the organizational energies towards the business objectives.
Alhamdulillah I have tried to reciprocate the trust which PTV's leadership has bestowed upon me and we have successfully redirected the organization towards a phenomenal growth path during the last eight years. The business momentum and revenue growth had almost faded out by the time I joined PTVC.
With the support of the Senior Management and the efforts of the business team we have managed to revive the business cycle and Alhamdulillah escalated the business development processes.
"In the last eight years, PTVs annual advertising revenue has grown by a CAGR of 19% which is the highest in the industry for all leading Television Networks."
The organization has been extremely kind in providing a reasonable opportunity for me and my team to grow & contribute to the organization not just in terms of Sales & Business but cross functionally in terms of content, product development, marketing, strategic planning and financial management.
The exposure provided as a result of this leverage and my subsequent cross functional role development has provided me the cutting edge over most industry professionals. When I look back at these eight years, it is truly a wonderful journey and I feel privileged to have achieved the position of Chief Commercial Officer of PTV Network.
PTV is currently the second largest Television Network in Pakistan in terms of annual advertising revenue and being assigned a leadership role at an institution with such phenomenal legacy is truly an honor for me.
Question 2: On a larger scale, what challenges does your team face while selling PTV?
Every organization has its own limitations and challenges & same is the case with PTV as well. Being a public sector organization, the challenges and limitations at PTV are very different from the challenges faced by the private sector business leadership. Speaking of the particular challenges that apply in case of PTVC, these maybe divided in two broader categories i.e. internal and external challenges.
Being the State Broadcaster, PTVC is largely regulated by the communication & broadcasting codes, policies and pre-defined procedures. While the regulation leads to certain difficulties for the sales & marketing teams from an external as well as internal perspective, I personally encourage regulation and look at this as a positive challenge.
"Unfortunately the private media entities have not laid enough focus on regulation, policies and procedures till date which has created professional loop holes within the media & advertising business."
If the industry has to evolve in collective terms, we need to make regulation a universal challenge as it may result in some immediate difficulties for media marketers but will go a long way in terms of the long term development and growth of our industry.
Apart from regulation, there are some unique challenges we face at PTV however I have a firm believe that there is no challenge in life which cannot be overcome if you have dedication, commitment and God's will by your side. I have always looked at the challenges as opportunities and have instilled the same vision amongst my team members.
Question 3: PTV Network has created history with its first quarter earnings, please shed some light on the achievements?
Our Managing Director, Mr. Muhammad Malick has truly given PTV a new direction since he joined last year and immediately after his appointment he had started focusing on the three most significant projects of fiscal year 2015 namely the Ramadan, ICC Cricket World Cup 2015 and the new programming quarter launch on PTV Home.
Driven by his leadership the entire PTV Team has worked extremely hard in the past nine months to provide an excellent business development platform to the Sales & Marketing team. At the same time, our team went out of the way in planning the activities for this quarter including the ICC Cricket World Cup 2015.
The results have definitely been groundbreaking and Alhamdulillah in Q1 2015, we have achieved the highest quarterly turnover in history by any Television Media Group in Pakistan (within one quarter).
"Inshallah, we are planning to close the Q1 2015 at a Gross advertising revenue of over Rs.2.25 billion for PTV Network."
The achievement is a huge benchmark at both individual and relative levels & it will boil down to being able to further raise our performance bars within the time to come.
Question 4: The world is taken over by cricket these days, especially media – What's PTV's strategy to keep the nation entertained and secure CWC business?
PTV in general has broadcasted several Cricket World Cups in the past and our current team in particular has had the privilege of Marketing the ICC Cricket World Cup in 2011.
This collective experience of marketing the much awaited Cricketing tournament had given us the cutting edge for this World Cup. When we started strategic planning for this event, we knew that the CWC was not only about 49 live matches of cricket but instead it was a festive cricket season of approximately 75-90 days.
The critical success factor which we identified was the creation of round the clock engaging cricket related infotainment and entertainment programming which could lock the eye balls on PTV Network during this festive period. We were able to lock some big faces, acquire quality content and produce exciting cricketing programs for our screens in a timely manner.
The timeliness of the entire exercise and the fundamental role of the sales team in the overall planning process allowed us to communicate our differentiators to the advertisers almost two months prior to the mega event.
We created personalized presentations for each brand partner and we shared our plans with them through engaging & extensive sessions separately with each & every advertiser.
Alhamdulillah we have achieved over and above all business expectations on this World Cup in terms of business and most importantly we have been able to engage the audiences by creating a sustainable connect with the requirements of this festive season.
We have successfully used the network advantage that PTV has and we have included our primary entertainment and news channels for amplifying the impact of our CWC product offerings thus gaining eye balls over & above the primary sports beam.
Question 5: This is the first time that any channel has brought in such a wide and diverse panel of experts – How did PTV manage to pull off #GameOnHai?
PTV Sports has already been established as the primary / leading sports entertainment brand in Pakistan. However, every leading brand has a responsibility to deliver beyond the brand promise and to meet the consumer expectations. Since the time we started planning for the World Cup we were clear that we need to enhance the level of financial investment and ensure the availability of a top-of-the-line panel of experts including both international and national faces.
We starting the negotiation process with some big names very early in the project development cycle and also faced various setbacks through the course. However, our efforts never declined and finally we were able to arrange a power house team of experts to conduct our CWC flagship show "Game on Hai".
Not only were we able to acquire some scintillating international cricket stars but we were also able to convince them to come to Pakistan for the live programs.
Since day one we were clear that if we are able to pull off the desired acquisition of the international names, it will not only be a commercial success for PTV but we would also be doing great service to our country and Pakistan Cricket.
By bringing the big names like Jonty Rhodes, Hershelle Gibbs and Damien Martyn to Pakistan we have given a strong signal to the International cricketing community that Pakistan is not such a dangerous place after all and there is still hope of international cricket within this country.
I truly believe that our effort will go a very long way in changing the global image of Pakistan Cricket.
Question 6: What other programs are making their way during World Cup season?
The programming mix introduced during the World Cup Season comprises of more than ten exciting fresh programs which are not limited to sports or discussion programs. Three of the primary shows including Game on Hai, Cricketing Corner and Journo Eyes are live cricket discussion shows from Islamabad, Karachi and Lahore respectively. All three daily live shows have a different flavor to each of them to ensure variety for eliminating repetitiveness for our audiences.
We have introduced two incredible Cricket History based shows namely Black & White and Amazing World Cup Memories having 16 and 13 episodes respectively. We have also introduced two cricket related game shows which have gained immense popularity in the first few weeks titled "Stumped" and "PowerPlay".
We have also started a comedy soap titled "Googly Street" which has a cricketing script and is gaining widespread popularity in both metropolitan and sub urban audiences. Importantly, at least three of these programs are also being aired on the primary entertainment beam i.e.
PTV Home and thus offering audience amplification to our advertisers. Lastly, we have also started a simulcast cross border live cricket show titled Dabang with 8 live episodes with the Indian Partners. The first few episodes of Dabang, particularly the ones before the Pak-India match gained amazing popularity amongst the Pakistani audiences and extracted good ratings.
Question 7: This intelligent mix of programs will definitely keep the audience hooked – In your opinion, what effect will they have on creating new business opportunities for PTV?
The CWC period has become a great launch pad of many products for PTV Sports as well as the launch pad for new revenue streams for the organization. This includes the launch of new flagship programs / products and fresh revenue streams which have been established during this season.
As an example, two of the game show products created by PTV Sports namely Stumped and Powerplay can become long term properties of PTV Sports for the future as both of them can be adapted to various sports & are not limited to only Cricket or the World Cup.
Similarly during this World Cup, PTVC has successfully started its digital business wing with the launch of PTV Sports smart phone application with in-stream and in-app advertising opportunities as well as web based streaming with in-stream business development opportunities.
The business success of PTV Sports during the ICC Cricket World Cup 2015 and the resulting ROI will motivate the decision makers at PTV to invest further in terms of rights procurement for future ICC & PCB events as well as the sustained production of quality sports programming.
This will result in sustainable and continued business opportunities & growth for PTV in the times to come.
Question 8: The Network is on a road to revival, however PTV Home / Entertainment has seen a decline in viewership over the past decade, what were the challenges you faced in this regard and are you planning any transition?
In the past, PTV was the clear cut leader in drama entertainment and in fact PTV has laid the foundation stone of the drama industry of Pakistan. This situation however has changed during the last two decades whereby many private entertainment channels have taken the lead in terms of procuring the best private productions and capturing good shares of the urban female / household audiences.
While PTV has maintained its share in terms of the nationwide audiences we faced a tough time in capturing the primary urban entertainment audiences during the last decade due to shortage of resources, talent and limited in-house production capabilities.
Alhamdulillah, we have now entered the revival stage as PTV Home is now procuring quality Dramas from the private production houses and also enhanced the operational effectiveness of our in-house production resources.
The results are already showing as the channel ratings within the entertainment genre are improving continually. We are clear in terms of our vision to revive PTV Home as the leading Entertainment Channel in Pakistan for both satellite and terrestrial audiences & are taking a series of structured steps in this regard.
Question 9: What are the future plans for PTV portfolio – Any Expansions?
PTV Portfolio comprises of eight beams / channels at the moment. Our success in the future will depend on maximizing the utilization of the available beams. In this regard we need to enhance the productivity of the available human capital and the available beams.
The leadership team at PTV is currently planning several initiatives on how to re-brand, re-package and rejuvenate the existing beams & how to enhance the productivity of existing revenue streams such as the secondary channels and the Global Distribution Business.
The expansion if any is planned in terms of the human capital as I believe that "Difference is never brought about by buildings, financials, machinery, equipment or the generic assets of an organization, rather difference is always brought about by the People of an Organization".
By expansion of human resources, it is all about finding the right balance between upgrading, training and redirecting existing people and hiring new people.
In an organization like PTV, the most important human resource strategy is to grow while synergizing and that is what we are focusing on at the moment.