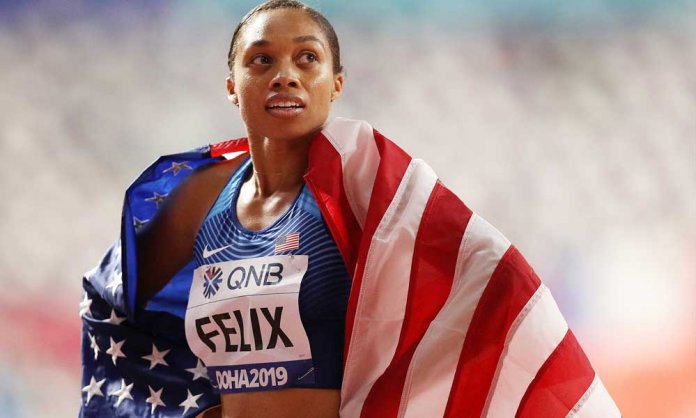 There's a new World Championships record holder, and her name is Allyson Felix and that's not it! It's her first season as a mother.
Hardly 10 months after giving birth to her daughter, Allyson Felix is back and breaking world records like a boss.
On Sunday, the USA Olympic sprinter broke Bolt's record after winning her 12th gold medal at the World Championships on the mixed-gender 4x400m relay team.
She now maintains the record for the most gold medals at the track and field World Championships.
In November 2018, she fought preeclampsia and experienced an emergency C-section at 32 weeks to deliver her daughter.
She had to fight hard to keep up the image of a world class athlete in the midst of a pregnancy.
Humbled🙏🏾💛 https://t.co/wJ10Ge88dz

— Allyson Felix (@allysonfelix) September 30, 2019
Sponsor Nike was unsupportive of her taking a break from athletics to start a family. Nike offered to pay her 70 percent less during negotiations for a new contract.
Later she posted a statement she received from Nike after the rule change on her Instagram, saying "Our voices have power."
Nike has joined in officially and contractually providing maternal protection to the female athletes they sponsor. This is a great achievement and means that female athletes will no longer be financially penalized for having a child.
Allyson Felix put Nike behind her and is now the first athlete to be sponsored by Athleta.
"It was really special," Allyson commented of the win, in a post-race interview with NBC Sports.
"It's been a crazy year for me, so just to be here to be running with this great team, I just feel so blessed." She said she's still "got a ways to go," adding, "I'm just grateful to be healthy, to be working my way back. It feels good."
Pregnancy isn't the end of your career! Women can be mothers and champions, both at the same time and we love Allyson for proving that to the world.
Stay tuned to Brandsynario for more news and updates.