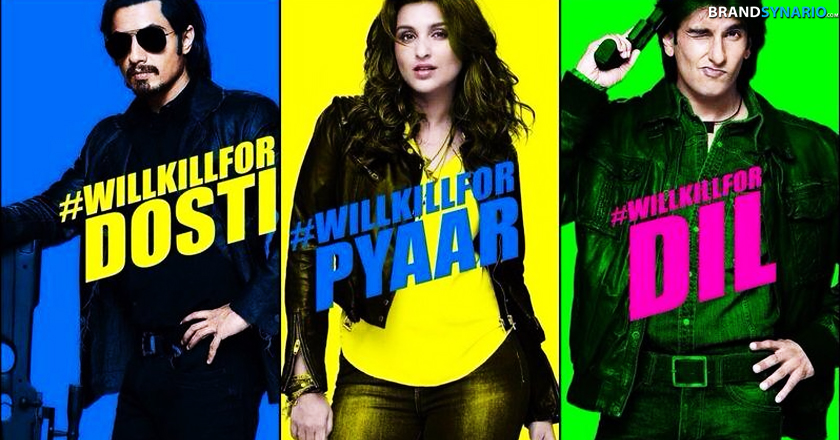 Ali Zafar's look in Yash Raj's 'Kill Dil' has finally been revealed. The 32 year old Pakistani model-turned-musician-turned-actor will be seen with India's newest Superstar Ranveer Singh and Parineeti Chopra.
It seems Ali Zafar has found his place after all.
Ali's latest avatar in his latest Bollywood venture, seems a bit more rugged than ever before. Ali has left behind his cute boy look behind it seems. Although, the clean look did get him through to his Bollywood debut Tere Bin Laden and later 'Mere Brother Ki Dulhan'.
This time round, Ali seems a bit more manly and a bit more deadly, the official poster of Kill Dil features Ali zafar with a seemingly never ending gun. Check out how the man himself revealed the look to his fans on twitter:
Here's the third teaser poster of #KillDil with @AliZafarsays. Share it if you #WillKillFor Dosti too. pic.twitter.com/nEkoXJeDG9

— Kill Dil Film (@KillDilFilm) September 15, 2014
He seems to be enjoying it, previously Ranveer Singh and Parineeti Chopra's Looks were also revealed, with caption '#WILLKILLFOR Dil' and '#WILLKILLFOR Pyaar' respectively. Ali Zafar's caption, is #WILLKILLFOR Dosti" – which also suggests a very unsettling reality for Zafar's fans.
"Ali Zafar is yet again not playing the lead role", in fact, as it seems, he is the supporting actor to Ranveer Singh. This however, cannot come as a surprise. Firstly, Bollywood is highly competitive industry and for a Pakistani actor to star in 'one of the' lead roles in a mainstream Indian movie (let alone, the banner of YRF) is indeed a pretty big deal, and with only a couple of movies to his name Ali Zafar has a long way to make his mark.
Nonetheless, we hope to see Ali Zafar in a leading role soon (in fact, this hope does not seem that far fetched at all, considering Zafar did star in his Bollywood Debut which made good on Box office despite its small cast and production labels). More importantly, we wish Ali Zafar all the best for 'Kill Dil'.