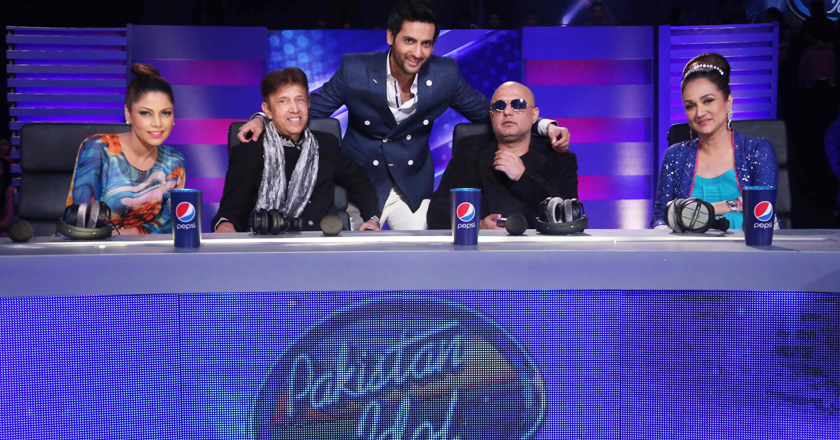 Pakistan Idol, the show much known as of its American counterpart, has been hosting calling in many Pakistani music legends, including Sajjad Ali as the most recent one.
Recently the show served as a host to the Pakistani legend, Alamgir who is also known for his songs like "dekha na tha" & "Khayal Rakhna". The legendary singer and the founder of the pop music in Pakistan, not only graced the stage with his presence but also guided all the participants before their final performances, making it worth a life remembering event for them and which definitely contributed to their performances.
Alamgir's valuable comments about the show were:
"I wish I could get such a platform when I started singing. After coming here it feels like I am in Hollywood. I really appreciate team Idol for providing such a platform to our young generation"
Moreover, before the legend Alamgir, Sajjad Ali was also welcomed at Pakistan Idol, as a special judge, who's arrival at the show was not only a morale booster for the participants but also lifted up the show's spirits making it even more enticing for the audience as it enters into its final stages.
At the show Sajjad Ali charmed the audience, as he sang one of his new songs "Yaad to aati hogi", causing many hearts to warm at the soft wordings of the song, while also being a lesson in itself for the participants to learn from Sajjad's expert song delivery.
Incessant presence of such great legends at the show including Alamgir, Sajjad Ali & Gohar, is not only building up the participants spirits and confidences but is also making the show worth following, during its final episodes while also adding a pinch of intrigue about who will be the next special judge to honor the show with his/her presence.