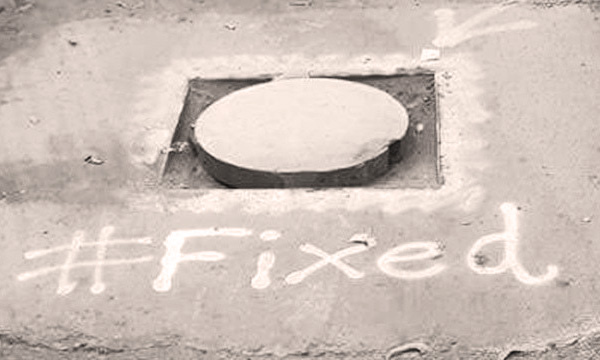 The famous activist dominating the social media with his tumultuous 'Fix it' campaign took the matters into his own hands and went on to fix the manholes on main University Road in Karachi.
Accompanied by around a 100 supportive Karachiites, he was able to pool in PKR 13,000 and was able to seal the irksome manholes with the status sprayed as 'fixed' next to each of the 42 sealed bumps.
Alamgir said, "At a cost of just Rs13,000 and in only six hours, we managed to seal 42 manholes on University Road." He added, "The people who joined me in sealing manholes on Friday were not labour, they were volunteers and ordinary people."

[fb_embed_post href="https://www.facebook.com/AKMehsud/posts/1027227520667585/" width="550″/]
Alamgir called out the provincial government's failure to take action when this matter was brought to their attention. Despite the warning given to the concerned authorities by Sindh CM Qaim Ali Shah, no fruitful action was taken.
"Karachi's common man who must fulfill his responsibility as a citizen even if the government fails to do its job," said Khan when talking about the campaign he has recently launched against the peacefully 'sleeping beauties' of Karachi.
[fb_embed_post href="https://www.facebook.com/AKMehsud/videos/1026753494048321//" width="550″/]
"This is an exam for the chief minister now…of the power of his writ. Is his command so weak that the Karachi Metropolitan Corporation administrator has managed to ignore it?" commented Khan.
The activity as a part of the campaign will be continued on Saturday with other residents of Karachi who entail 'fixing' the remaining open manholes.
PTI Official Highlights Everyday Problems Faced By Karachiites
Stay tuned to Brandsynario for more updates.