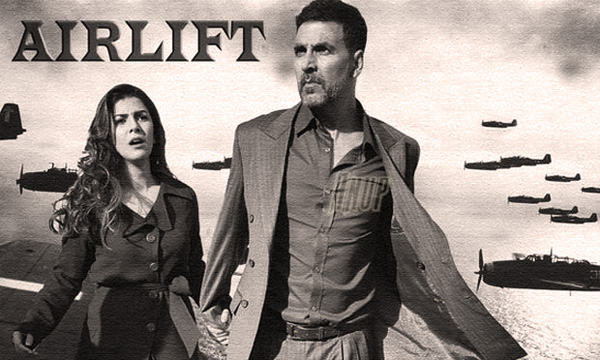 The stunt man of the Bollywood, Akshay Kumar, is back with a heroic and a power packed performance in his upcoming film 'Airlift'. After four of his blockbuster releases of this year (Baby, Brothers, Gabbar is Back and Singh is Bling), actor Akshay Kumar will be seen next in the thriller film 'Airlift', whose teaser was released on Wednesday.
Read More: Ranbir and Deepika to Visit Pakistan For Tamasha Movie Premiere
The action stirred thriller features Akshay Kumar as Ranjit Katyal, who is the richest man of Kuwait. He is the person of interest for everyone, as people yearn to have a business deal with him or are jealous of his personality.
The movie revolves around the storyline when Iraq invades Kuwait in 1990 that makes 1.70 lakh refugees suffer. The movie exhibits Ranjit's attempts to rescue those people from there and bring them back to India.
Akshay Kumar while sharing the teaser on twitter wrote: "Here is the @AirliftFilm teaser guys. This is a very special film for me. Hope you like it."
Read More: Tamasha Movie Posters, Trailer and Movie Stills: Deepika and Ranbir on Vacation
The movie plot is based on a true incident of Iraq-Kuwait war in 1990 and the rescue attempt process done by one man who has also won the Guinness World Record for India. Airlift is the story of the one man who rescued these refugees over a span of 59 days.
Along with Akshay Kumar, the movie also introduces Nimrat Kaur, Lena, Fareyna Wazheir, Pawan Chopra, Kaizad Kotwal, Narendra Jetley and Sameer Ali Khan.
Read More: Aamir Khan faints on the sets of Dangal Movie
Releasing on 22 January 2016, Airlift vows to be an edge-of-the-seat thriller with plenty of infringing actions and sequels.
Mark the date guys… @AirliftFilm releases on 22nd January, 2016.#AirliftTeaserOnWednesday pic.twitter.com/Cp4junnOCA

— Akshay Kumar (@akshaykumar) November 16, 2015
Stay tuned to know more about the heart-stopping suspense actions of the movie!