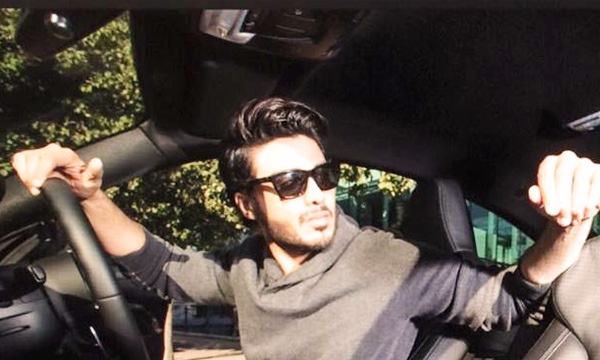 While India is welcoming all the rich raw talent of Pakistan with open hands, Ahsan Khan seems to be next in line to hit jackpot in the neighboring nation.
Not only he has unlocked a massive victory by bagging lead roles in Zee Zindagi's television projects, Khan has also become the host of the new mega musical sensation in the continent, "Asia's Singing Superstar".
Of course,  Bollywood was bound to notice the true star in our beloved drama celebrity Ahsan Khan and bombarded him with a plethora of offers.
Speaking to Dawn in an interview, the icon revealed, ""Post-Zee Zindagi, I continue to receive a lot of offers from India but I'm presently busy with a few films in Pakistan that will have an international release."
Though sticking to projects in his own homeland, the handsome actor ensured that he will explore his feat in B-town at the right time.
"I'm already working with Indian directors in commercials so it's only natural to venture forth into Bollywood to explore further possibilities as an actor",  he divulged
What's more, Ahsan was all praises for Ali Zafar and Fawad Khan for rising to stardom in India amongst all other Pakistani celebrities who discourage working across the border.
"I admire Ali Zafar and Fawad Khan for making us proud, what fabulous work the two have done against all odds!".
The  best news is that the model, dancer, singer, producer and actor Ahsan Khan told Dawn that he is about to turn director in the near future.
"We used to copy Indian soaps shamelessly but now the Indians follow us. I plan to turn to direction as Zee Zindagi has given us a chance at exploration,"
announced the determined star.
Applauding the whopping popularity of Pakistani dramas in India, Khan said "They follow our plays just like we follow Bollywood; Pakistani dramas are a craze in India right now."
If Ahsan walks his path right in India, he will surely rise as high as his fellows Fawad Khan, Mahira Khan and Ali Zafar. While he gradually rose to fame in Pakistan by testing his mettle in both movies and drama, it is inevitable that he becomes the next hit luminary across the border making his nation proud!