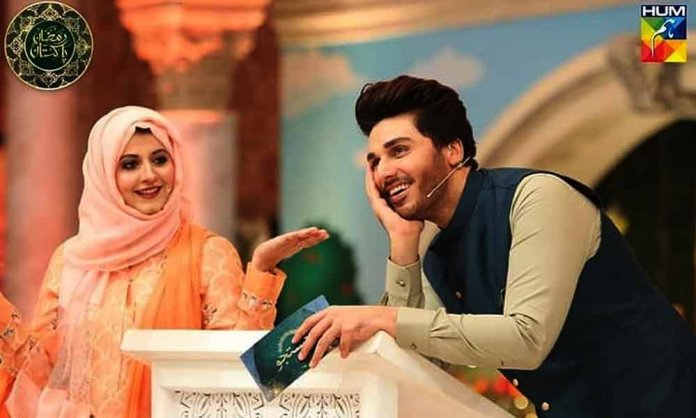 Aamir Liaquat's first wife, Syeda Bushra Aamir Liaquat has taken social media by storm with her hosting skills in 'Ramzan Pakistan' on HUM TV.
While she made a comeback on television after a hiatus, Bushra's grace and style immediately won the hearts of the audience in no time.
So much so, her segment in HUM TV's Ramadan transmission has created a mighty buzz and is grabbing eyeballs.
Thanks and praise to Almighty Allah 🙏🏻🧡 #RamazanPakistan #RamzanPakistan #رمضان_پاکستان #13thRamazan #InspireOthers #ChhotiSiKoshish #Alhumdulillah #BlessedAndGrateful #Pakistan 🇵🇰 pic.twitter.com/LWftuHnZk3

— Syeda Bushra Aamir (@BushraAamir) May 19, 2019
Suno Chanda Season 2: More Mistakes Spotted in the Episodes Annoy Fans
With Bushra making an appearance on the show every day, social media pours love towards the beauty in heaps!
Ye haqeeqat hai k bushra baji ki waja se ramzan pakistan top per hai

— Anjum chand (@Anjumchand1) May 16, 2019
More power to you @BushraAamir you're the lady against all odds. Keep glowing 😍 its lovely working with you & honoured being by your side.#RamzanPakistan pic.twitter.com/NgkF7oSri6

— Sidra Hamid Naqvi (@_SidraHamid) May 9, 2019
And now Ahsan Khan too has clearly become her ardent fan.
A video of the actor is going viral in which he is lauding Bushra for imparting great knowledge and expressed her deep respect for his co-host.
https://youtu.be/O5QeZFhORtg
Fahad Mustafa Schools Hira Mani Over Controversial Comment on Jeeto Pakistan
Clearly, she is the star of Ramadan transmissions this time around.
Are you watching her segment with Ahsan Khan in Ramzan Pakistan? Let us know in the comments below.