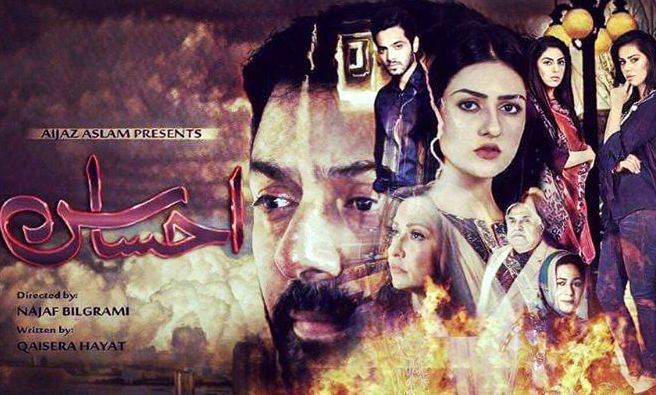 Who needs to watch Indian dramas when Pakistan's television industry is churning out stellar shows on its own? One such novel drama to join the ranks of promising serials is Urdu 1's Ahsaas.
With an impressive cast of Noman Ejaz, Zeba Bakhtiar, Sara Khan, Nida Mumtaz, Noman Habib and Ghana Ali, Ahsaas will unveil the tale of a dysfunctional family.
The drama is penned by Qaisra Hayat, directed by Najaf Bilgrami and produced by Aijaz Aslam.
Check out the drama's OST here.
Khoobsurat Urdu1 Drama ft. Mahnoor Baloch & Azfar Rehman: OST, Timings & Schedule
SYNOPSIS
Two weeks down and Urdu1's  Ahsaan has given us a clear peep into the complicated lives of Hina, Babar and Adil.
https://www.instagram.com/p/BLtmPWfjWIq/?taken-by=sarahkhanofficial
The drama opens with Noman Aijaz as Adil, buying an expensive jewelry set for his beloved wife played by Zeba Bakhtiar. Hina, played by Sara Khan, works as a sales girl at the jewelry store.
Witnessing the love between the cute old couple, Hina can not stop gushing over the pair. Deep down she craves for the same bond with the guy she wants to marry- Babar. Both Hina and Babar work at the same store and aspire to marry each other soon in future.
However, Hina belongs to a middle-class family- one that strives to make ends meet. Apparently, she is the breadwinner of the home but her mother is eager to see her piyaari beti as a dulhan. 
Meanwhile, the show unveils how Adil's household is an abode of conflicts and chaos despite having all the luxuries and comforts of life. Their daughter, Nimra is living a miserable life with her husband Saqib and their son Nadir is unhappy with his career-driven wife, Maryam.
Nimra wants to leave her aggressive husband for good but compromises for the sake of her parents. Similarly, Nadir wants to teach his wife a lesson for being an unsupportive partner.
Heartbroken from her home's situation, Adil's wife passes away and the tragedy breaks the family further apart.
Amidst all the disruption, the daughter-in-law Maryam will be conspiring to get her middle-aged father -in-law, Adil to get married for the second time.
We are guessing that his second wife will be Hina who will be sacrificing her love to tie the knot with a wealthy man.
https://www.instagram.com/p/BLtRH7cB6n6/?taken-by=sarahkhanofficial
REVIEW
While Ahsaas might seem cliched on many levels, it is still quite unpredictable and won't let you lose interest in the plot. Hopefully, the love story will have a fresh, contemporary twist that is obviously unforeseen for now.
Noman Aijaz is at his best in the drama. His powerful acting will tug at your heartstrings. From his dialogue delivery, expressions to body language, everything shows that he completely owns the character. Zeba Bakhtiar's role is very short in the serial but her sheer beauty has left us in awe.
The rising star Sara Khan has once again aced her role. Can't wait to see how her character grows as the drama evolves.
Faysal Quraishi has a cameo role in the tale and will be soon seen in the upcoming episodes.
For those who don't know, Ahsaas airs on Urdu1 every Tuesday at 20:00 PST.
Urdu1 Drama 'Shehrnaaz' ft. Ayeza Khan: Timings, Schedule & OST
Stay tuned to Brandsynario for more updates.