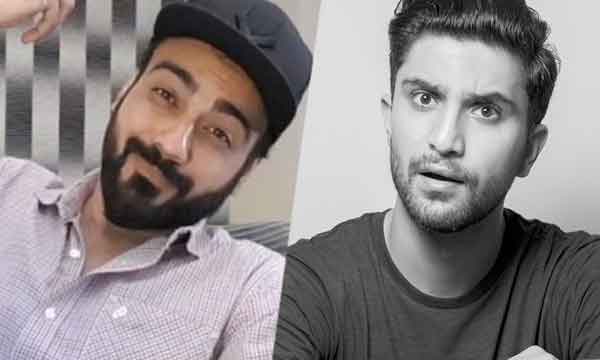 The dashing Ahad Raza Mir and bubbly Sajal Aly became the faces of Coca-Cola's latest ad campaign #CocaColaShaadiAurHumTum.
Given the duo's popularity, the campaign became quite famous in no time and was trending all over social media for featuring the most loved on-screen couple.
However, the ad also caught Arslan Naseer's attention, the same Arsalan who is known for making hilarious parody videos on his page called Comics by Arslan (CBA). He posted the CBA version of the ad on social media yesterday.
If you have been following Comics by Arslan, you must know that CBA reviews critically analyze every unusual detail in the trending ads or movies in a sarcastic yet hilarious way.
In the video, Arslan said that he received many requests from his followers to post a CBA review of this ad.
Tik Tok Discreetly Testing Ads: A New Opportunity for Pakistani Brands to Cash On?
He also mentioned that he personally liked the Coca Cola ad and is also a fan of Ahad-Sajal duo before he went on to troll the video in his conventional style.
Watch the video below!
https://www.youtube.com/watch?v=xfufEdg1KUI&feature=youtu.be
Here's the original ad!
However, the most interesting thing happened when Ahad Raza Mir himself watched this video and shared his reaction!
Ahad Raza Mir took to Twitter where he shared the CBA- version of the Coca Cola ad. The Aangan actor found it really hilarious and asked CBA not to stop making videos ever!
Here's what he wrote: 
What an honour! Can't stop laughing!!! @ComicsByArslan please never stop making videos!https://t.co/z0UGAv42PU

— Ahad Raza Mir (@ahadrazamir) January 30, 2019
Arslan Naseer of CBA really appreciated the response from the Parwaaz e Junoon actor and thanked him for his kind words.
Thank you very much bro, glad you liked 🙂

— CBA – Arslan (@ComicsByArslan) January 31, 2019
It's not only Ahad who liked the video but the CBA version of Coca Cola ad is getting hilarious reactions on social media as well.
We alll should put a *NAZAR KA TEEKA* 😊😑😑😑

— FatiiMaah.🌷 (@ahadiieesajalys) January 30, 2019
😁🤣🤣 Ek desi ek gora 😄😄
Ma baap ne bhi itni nazar nehi utaari 🤣🤣 awesome video 👌👍👍

— 🍁rinz16🍁 (@irinz_227) January 31, 2019
Mannnn😂😂😂i watched this video almost this evening andddd i was laughing soooo hard😂😂😂😂😂 I'm so hapoy that you liked this videoooo. Aaahad ❤❤❤❤❤❤ and let me tell you a secret. @ComicsByArslan likes your and Sajal Couple. 🙈🙈🙈🌚💜💜💜💜

— Tmhari Behen 🤟 (team Dulha) (@AapkiNahiHoon) January 30, 2019
They also appreciated the gesture of Ahad Raza Mir for taking the humor in a light way!
love how you appreciated the humor! you're a gem Ahad

— Sara (@AhadsEyebrows) January 31, 2019
One thing I love about is that you take everything in a positive way. ❤️ you're amazing! 🙌♥️

— m (@zustinsel) January 31, 2019
Not everyone takes humor lightly. You're a gem

— Abeera. (@abeerayy_19) January 31, 2019
Stay tuned to Brandsynario for more updates and news!
Sajal Aly Breaks Silence Over Her Relationship With Ahad Raza Mir