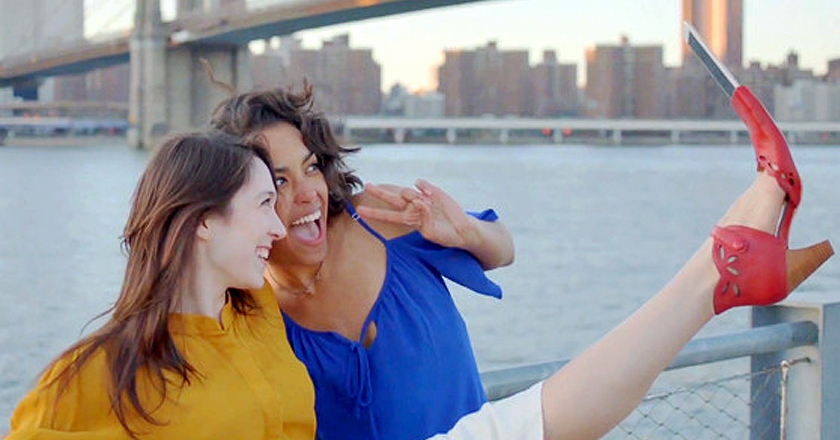 As if the world wasn't drowned enough in selfie craze – we now have selfie shoes!
Some sane people in USA banned the selfie sticks in museums and concerts. So what were the selfie-obsessed people to do next? They invent an actual shoe with a hole in front of it! you can stick your phone in there and viola – The Selfie Shoe!
This weird product has been put forward by a shoe company named Miz Mooz.
The shoes are a cherry red, vintage style heels with a docking port for iPhones in front of the toe. You can place your iPhone in the dock and then tap the inside sensor with your toe to take a #Shoefie. Yes that the official hashtag.
There is one catch; people will have to lift their foot – at least up their waist to take a selfie. But I am sure selfie crazies will find some new poses or some new technique to positions the foot that will look great with it.  The shoes will go on sale from tomorrow at 199$ a pair.
Here is what the mad scientist from Miz Mooz, Cheryl Matson, Miz Mooz Director of Design had to say about their new innovation:
"At Miz Mooz, we understand the importance of looking great without giving up the comfort our woman on-the-go have come to love about our footwear. No matter where you go, you'll always be camera-ready with the Selfie Shoes, you no longer have to use your arm, so now both hands are free to be in the photo."
Watch the video below:
Now when you have read about the crazy idea the Miz Mooz shoe company came up with, I am exhilarated to announce that this is all an April Fool's joke by the them.
Faith in humanity restored!! (A little bit). I don't know what I would have done if I saw someone here taking a #Shoefie. So the clever PR agency and Miz Mooz pulled this stunt to capture buyers (pun intended) and I think it has done a swell job.