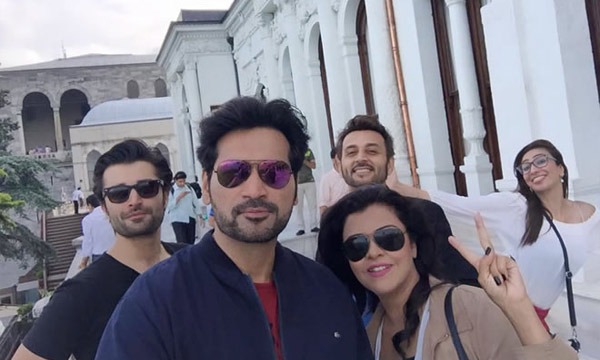 It wasn't long when Pakistani dramas became super hit among Indian masses. Now the industry is all ready to enthrall Turkish audience with a newly launched Turkish channel that will focus on airing Pakistani drama content only. The channel will also have a morning show named 'Sunrise from Istanbul', hosted by  acclaimed actress, Maria Wasti. The morning show will be a joint venture between Pakistan and Turkey.
Pakistani stars were spotted enjoying their stay and shoot in Istanbul. Stars like Anoushey Ashraf, Humayun Saeed, Hamza Ali Abbasi, Nouman Ejaz, Sanam Saeed, Fahad Qureshi, Mohib Mirza, Amna Ilyas, among other Pakistani celebs are having a really good time in Istanbul.
In the show 'Sunrise from Istanbul', Maria Wasti will take the audience on a journey to beautiful Istanbul. According to a local magazine, a new channel in turkey is set to be launched airing Pakistani Shows which will follow the same format as that of Indian channel, Zindagi.
The celebrities have been active on social media; posting, tweeting and sharing pictures live from Istanbul. Have a look at their tweets:
#HumayunSaeed with #MariaWasti during the recording of an interview for #SeeTV. #SunriseFromIstanbulpic.twitter.com/lnPmocilCA

— Humayun Saeed (@iamhumayunsaeed) June 18, 2015
Turkey day2 🙂 lovings!! pic.twitter.com/jGnmVbihur

— Anoushey Ashraf (@Anoushey_a) June 19, 2015
with Aijazz Aslam #seetv#sunrisefromistanbul#istanbul#pakistanpic.twitter.com/3T5SLgn3zm

— emel krks (@peramel) June 15, 2015
And these heroes have arrived as well! Woohoo pic.twitter.com/pvP6MQsde9

— Anoushey Ashraf (@Anoushey_a) June 17, 2015
#HumayunSaeed and #HamzaAliAbbasi, travelling to #Istanbul from #Karachi for an exclusive TV channel interview. pic.twitter.com/Z1af0HMesB

— Humayun Saeed (@iamhumayunsaeed) June 17, 2015
#HumayunSaeed exploring the spectacular views of #Istanbul with friends #MariaWasti#AnoushayAshraf#FaisalRehmanpic.twitter.com/8B15uSSJFB

— Humayun Saeed (@iamhumayunsaeed) June 18, 2015
With the fabulous actor & a supremely nice human being Maria Wasti in Istanbul during my interview this morning pic.twitter.com/c1BI3Pell4

— Shoaib Malik (@realshoaibmalik) June 6, 2015