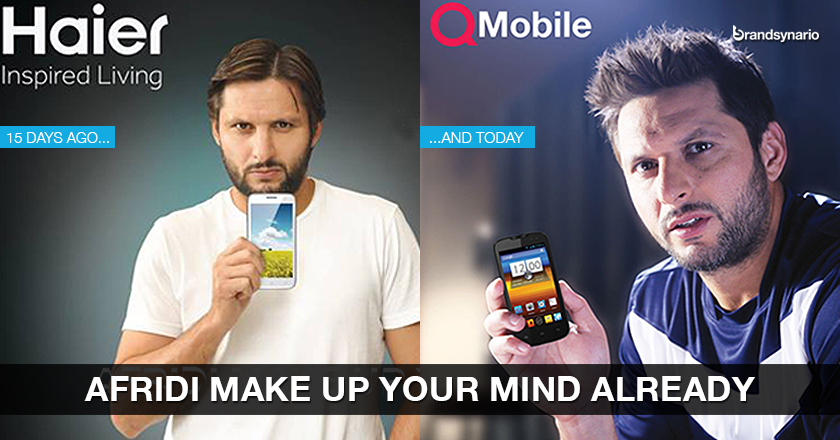 Shahid Khan Afridi who is seen endorsing Haier Smartphones will now be seen endorsing QMobile like many of his other fellow Pakistani Cricketers. 
Strangely not more than 15 days ago, Shahid Afridi was seen posing for Haier's smartphone Clair. It seemsQMobile's undying hunger for celebrity endorsements got the better of Afridi's resolve.
According to the press release by the brand the ever-so-unpredictable LALA, living up to his reputation of being impulsive, has pledged his exclusive allegiance to QMobile.
The press release goes on to state that although 'Afridi has been associated with other Smartphone brands' in the past, but it won't be the case anymore. Thus, confirming the news that QMobile has indeed consumed another celebrity to endorse its gadgets.
Who can forget QMobile's inexplicable spree of Celebrity endorsements from Iman Ali to Shan, to Aditiya Roy Kapoor to Kareena Kapoor.
But as they say, what is successful is only seldom questioned, and QMobile's marketing strategies – however notorious, widely discussed and perhaps criticized – are also successful. After all the cutthroat competition in the smartphone industry is hidden from no one.
The perpetual rivalry between names like Apple, Samsung, Nokia and HTC had traditionally left a very narrow space for any other brand to stand on its feet, let alone a Pakistani brand who doesn't even manufacture its phones entirely.
But contrary to all preceding believes QMobile has not only found a strong footing in the Pakistani industry but it is also giving a tough fight to all these colossal international brand names.