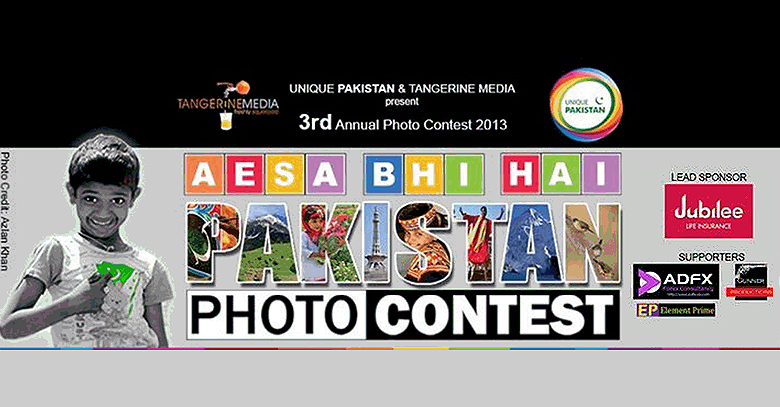 Unique Pakistan & Tangerine Media, in collaboration with Jubilee Life, has organized their 3rd Annual Photo Contest called 'Aesa Bhi Hai Pakistan' that aims to depict the brighter side of the country and promote young talent.
The contest is an online based competition that is judged by renowned photographers of Pakistan.
Objective
This year's 'Aesa Bhi Hai Pakistan' photo contest is a sequel to the events held in 2011 and 2012. Both the previous events, were supported by renowned literary maestro Javed Jabbar, were hailed by participants, spectators and media for its efforts of trying to highlight positive image of Pakistan.
The theme of this year's photo contest mirrors the unique sights of Pakistan focusing on two broad categories namely, Tourism and People & Culture through photographs taken by young, ambitious photographers.
Competition
Participants will be required to take a relevant photograph and e-mail it to Unique Pakistan. The entries will be judged by a panel of experts and the top three winners in each category will be given cash rewards. The six winners from both categories will also be given the chance to work on projects with the jury members. All the details of the participation of this competition are given on the Facebook page of Unique Pakistan.
The panel of judges for this year's 'Aesa Bhi Hai Pakistan' boasts renowned names in the field of photography and film making including Mehreen Jabbar, Hanif Bhatti, Ghulam Rusool, Yasir Nisar and Tariq AK.
About Unique Pakistan
Unique Pakistan is a group of passionate individuals who have joined hands and indulged in the pursuit of changing Pakistan's perception in the eyes of the world. Tangerine Media also believes in the cause and feels that our talent and youthful energies need to be harnessed in the right direction. "It's a responsibility of all the stakeholders of the brand 'Pakistan' to work on this mission and Unique Pakistan is a platform where we invite all of them to join hands and promote the other side of the country." said Noman Minai, Founder of Unique Pakistan.
The competition ends on December 25, 2013 and will be followed by an exhibition of the top 100 photographs.