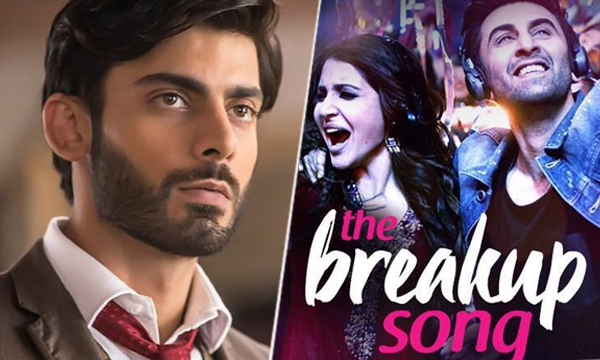 Amidst all political hullabaloo in India against Pakistani celebrities, Ae Dil Hai Mushkil is all set for it much-awaited release this October! Its new break up song is now out and we can not help missing our Pakistani hunk, Fawad Khan in the track! While Anushka Sharma and Ranbir Kapoor are partying in this celebratory breakup song, all we could wonder was about Khan's big fat breakup from Bollywood!
The melody is all preppy and happy! Kapoor and Sharma are rejoicing and dancing their heart out. But here, the breakup song makes us all the more annoyed at the rumors of Fawad Khan's face being replaced with that of Saif Ali Khan in Ae Dil Hai Mushkil.
Watch the track here.
"Saiyan Jee Se Kaahe Tu Ne Breakup Kar Lia" goes the tune! It makes us ask Karan Johar the same that why oh why did he ended his relationship with Fawad Khan?
Oh well, a breakup did happen in real and it is certainly not a happy one. If the grapevine is true and Fawad Khan is really out of the movie, then we are certain that there is no charm left to watch in Ae Dil Hai Mushkil.
10 Times Fawad Khan Proved that India Will Regret Banning the Hottest Khan in Bollywood!
What is more, Saif Ali Khan can no way fill in the role like Fawad Khan! Our Pakistani Khan is the real boss and he has proven it countless times in Bollywood. 
So B-town, you can rock and roll with Ae Dil Hai Mushkil's latest Breakup song! But banning Fawad Khan from your movies is a massive breakup, we bet you will never recover from. 
Stay tuned to Brandsynario for more updates!