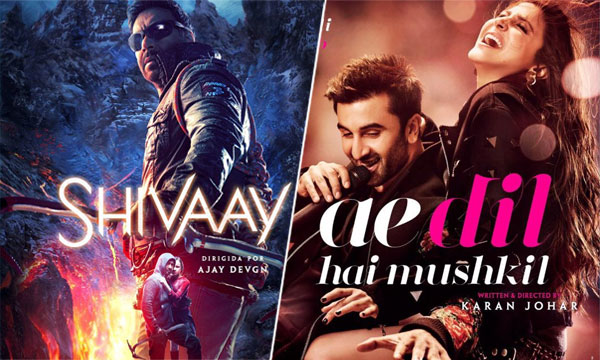 Are you guys ready for this year's biggest Bollywood clash at the box office? Karan Johar's Ae Dil Hai Mushkil & Ajay Devgan's Shivaay were the highly anticipated October releases that have finally screened and are bound to give each other some tough competition- too bad these won't be releasing in Pakistani cinemas.
The actual clash has finally happened! Ae Dil Hai Mushkil (ADHM) and Shivaay (Shivay) both started with a bang on the first day,  at the Indian box office, reports Indian Business Times.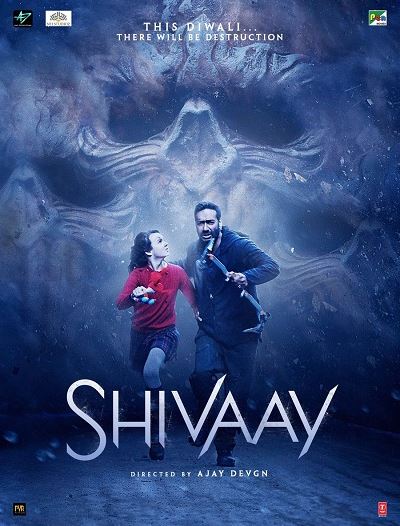 While the buzz about Ae Dil Hai Mushkil has proven to be true, and Karan Johar's flick may have witnessed a bigger collection than Ajay Devgn's on the opening day, fans just couldn't stop raving about Shivaay's stunning visuals, breathtaking action sequences, and heartwarming scenes.
Ajay's flick still has a chance to beat Karan's production in the coming week. See what Hrithik Roshan had to say about Ajay's flick:
@ajaydevgn congratulations on shivaay. I have never seen action like this . Thank u for inspiring! Can't wait to watch the movie!

— Hrithik Roshan (@iHrithik) October 28, 2016
IMDB has given Shivaay a rating of 7.6/10 while Ae Dil Hia Mushkil lagged behind with 5.6/10 rating-Quite shocking considering the buzz and publicity that entailed Ae Dil Hai Mushkil and a higher opening day sale.
#IMBD Rating of #Shivay & #ADHM

Shivay Rocks…………….!!

Congratulations @ajaydevgn pic.twitter.com/l2Qw87CA8z

— Rαηη Ɓαηкα Rαтнσяє (@Kw_Saa) October 28, 2016
Read the full review of Ae Dil Hai Mushkil movie below:
Ae Dil Hai Mushkil Review: Fawad Khan Commits Suicide in The Movie?
Twitter landscape was also abuzz with great reviews about Shivaay. Have a look at some of the rave reviews by leading dailies & exciting reactions below.
Filmfare termed it a 'fabulous performance'. 'Quick take. Stellar action & Tepid Drama. 
Movie review: #Shivaay

Filmfare rating: 2.5 stars@radiochatter's quick take: A fabulous performance by @ajaydevgnhttps://t.co/PkgX9t5ibW

— Filmfare (@filmfare) October 28, 2016
While BollywoodHungama called it a perfect emotional thriller:
#MovieReview #SHIVAAY is a perfect emotional thriller that scores high on visuals, action and performancehttps://t.co/Dwm6vejr3z pic.twitter.com/1y2G9b4BPP

— Bollywood Hungama (@Bollyhungama) October 27, 2016
#Shivaay Review: The Film is an #AjayDevgn show all the way.https://t.co/PUHwWzNV5H pic.twitter.com/JsN6wvJZsr

— Koimoi.com (@Koimoi) October 28, 2016
#Shivaay is stunning VISUALS, breathtaking ACTION n emotional scenes between #AjayDevgn n #Abigail! Quick REVIEW! https://t.co/bOepoSJbgc

— Stardust Magazine (@Stardust_Magna) October 28, 2016
#Shivaay movie review: #AjayDevgn steals the show. Read review!https://t.co/hoW4vB2chH pic.twitter.com/R7ULdrBo7A

— Bollywood Bubble (@bollybubble) October 27, 2016
#Shivaay Movie Review – #AjayDevgn – Blockbuster Hit

Watch Out 👉 https://t.co/yLKpNh0j9D pic.twitter.com/VxMzPMZfhH

— Bollywood Spy (@BollySpy) October 27, 2016
#Shivaay (#Shivay) review:@ajaydevgn's movie is a desi version of Taken with stunning visuals,action @ShivaayTheFilm https://t.co/8sr7WQoQbl

— IBTimes India (@ibtimes_india) October 28, 2016
While ADHM had a budget of a total 70 crore with 10 to 15 crores spent on promotions and publicity, Ajay's Shivaay had an abundant budget of INR 105 crore with Rs 20 crore spent on promotions.
Donning the hat of the director, producer, and actor, Ajay Devgan has given a visual masterpiece in the form of Shivaay. The film has mostly been shot in Mussoorie, Bulgaria, and Hyderabad.
The general audiences and the Indian masses couldn't stop singing praises for Shivaay.
#Shivaay Set To Take Second Biggest Start For Ajay Devgn After #SinghamReturns @MovieTalkies – https://t.co/sGJR9RjBAE

— Joginder Tuteja (@Tutejajoginder) October 27, 2016
Non Stop Praises & applauds for #Shivaay Public in India is going all Gaga over the action scenes of @ajaydevgn #YehDiwaliShivaayWali pic.twitter.com/fdCF6rRa47

— SANDEEP (@sandy80rocks) October 28, 2016
Just Watched Movie.. Yaar Fully Paisa Wasool.. Jabardast Action.. @ajaydevgn Is Simply Awesome… #YehDiwaliShivaayWali

— Vijay Goswami (@goswamivijay986) October 28, 2016
Watched #Shivaay today, @AjayDevgn! Totally loved it! VFX, BGM, story, action everything was really good! That pose before intermission! 😍🙏

— Sayan Adhikary (@isayan_58) October 28, 2016
Supr duper hit as we aspect #shivay wali diwali

— Vijay Bhople (@VBhiple) October 28, 2016
#Shivay surely gave me an adrenaline rush, specially during bolo har har in between action scenes.. Awesome Movie..

— cibeesh balakrishnan (@cibeesh) October 28, 2016
https://twitter.com/bhartiramesh073/status/792013958437859328
The conflict about releasing both the Bollywood flicks in Pakistan has still not been resolved, and the movie industry is likely to suffer a major hit if Bollywood misses out on the Pakistani market chunk.
Fawad Khan's Ae Dil Hai Mushkil 'Cutiepie Song' Deleted Scenes Revealed [Watch Videos]
Gear up guys, some heavy dosage of entertainment is on your way! While Karan's romantic drama flick will make you laugh and cry, Ajay Devgan's 'Shivaay' is bound to do the same AND pacify your action thriller needs. The bigger question is, which movie will come out as the clear winner at the Box Office? We will soon be finding out in the coming week.
So which one of these are you heading out to watch first? Share your views below.
Stay tuned to Brandsynario for more news & updates!