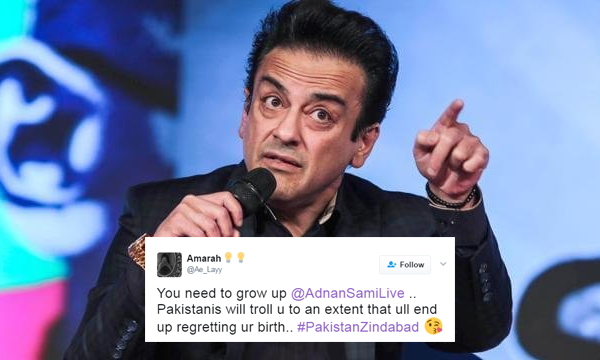 For those who have heard about Snapchat controversy brewing in India will know how the neighboring nation is reacting towards the whole fiasco. Now, Adnan Sami has voiced his opinion on the matter too. But little did he know, that it was just not his day!
The singer who has found a permanent abode across the border declared on Twitter that he has boycotted Snapchat for good. Of course, the Twitterati in Pakistan bashed him like nobody's business and trolled him for supporting India!
See what Adnan Sami tweeted!
Just uninstalled #snapchat .. You guys @Snapchat can kiss our 1.2 billion 'poor' progressive bottoms!

— Adnan Sami (@AdnanSamiLive) April 16, 2017
Probably, Sami did not know what was coming for him!
In the fiasco of #snapchat & poor #india, #AdnanSami is trying hard to look relevant.
Someone give him a glass of "lassi" please.

— Sheep (@Another__Sheep) April 17, 2017
Even Taher Shah has more fans than Adnan!
Would rather listen to Taher Shah than @AdnanSamiLive (the man who hates his own father)#AdnanSami

— Nida Feroz (@NedaFiroze) April 17, 2017
This guy literally won with his pun!
If life gives you Sami, try to be even Mohammad Sami but never be an Adnan Sami #Adnansami

— Mohammad Amin Khan (@mohammadameen96) April 16, 2017
Valid point put across!
@AdnanSamiLive @Snapchat pic.twitter.com/QtlU5PqSB4

— Abbas Lakhani (@AbbasLakhany) April 16, 2017
Then Adnan Sami hit back at them by making his love for India all the more obvious!
Dear Pak trolls,
My tweet wasn't bout U.It ws bout Snapchat.Stop trying 2 jump in & b relevant like a jilted lover!Get over it.Jai Hind!😘🇮🇳

— Adnan Sami (@AdnanSamiLive) April 16, 2017
Adding fuel to the fire, his bitter tweet echoed of anti-Pakistan sentiments!
I know ur BS 2 well 2 b intimidated by it! U can fool d world. Not me! I grew up midst d Pak Corridors of Power & Know its Truth btr thn U! https://t.co/r2Ce3s7uWx

— Adnan Sami (@AdnanSamiLive) April 17, 2017
This is not the first time the crooner has tweeted something against Pakistan! Time and again, his statements prove that his heart belongs to India and not to the soil he belongs!
Nevertheless, Twitter had a field day and mocked the living daylights out of Adnan Sami!
Stay tuned to Brandynario for more updates!