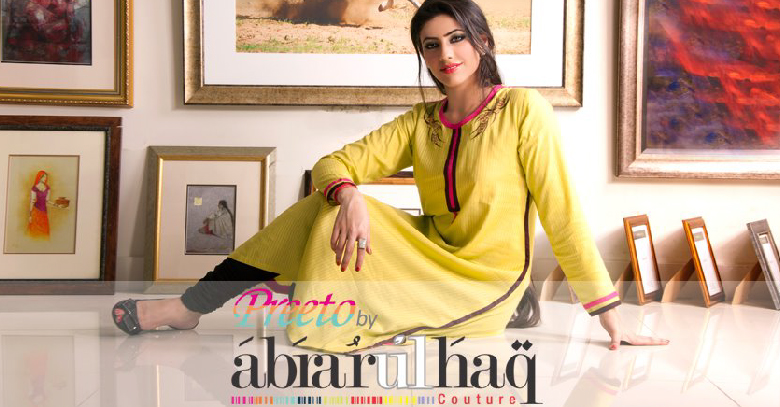 Preeto by Abrar-ul-Haque has been around since 2011, when the clothing brand was launched by the famous singer. The brand name is inspired from his famous song.
The brand Preeto is known for its casual wear collections which have been regularly launched season after season for the last two years. News is in the air is that Preeto is coming with designer lawn to be launched under the umbrella of Portia Fabrics.
Over the years, it has been interesting to see a number of celebrities entering the clothing business with their own brands. Whether it is Junaid Jamshed with J.J, Shahid Afridi with Widyaan, Hadiqa Kiani with Hadiqa Kiani Lawn, or Nadia Khan with Nadia Khan Lawn and so on, all have focused on bringing something different to the picky consumer.
We see all kinds of celebrities, from musicians to TV show hosts to actors to sportsmen in the clothing business.
The question is why clothing business?
The recent lawn craze and the hype of designer lawns, makes the clothing business very profitable and the best thing is that the brand becomes famous overnight, riding on the stardom of the celebrity.
The celebrities leverage their value as a brand to their clothing lines. Another deciding factor behind celebrities entering business is the short duration of stardom. It is profitable for them to realize that business has a more stable ground as compared to being a celebrity.
In terms of the brand identity, the business automatically takes the identity of the owner. So Preeto is "shokh and chanchal ", J.J is shy and sophisticated, Nadia Khan lawn is bright and confident, all the brands adapting the associated celebrity's personality.
It means the celebrities don't have to work hard on building their clothing line's identity. They extend their personality to their business and it is good to go. These celebrities already have fans and their attention is easily deviated in the direction that the star wants.
It also makes it possible for the new brand to stand out among the scores of clothing businesses.
These business brands extend the life of the celebrity brand as well. A successful brand goes a long way, even after the celebrity brand may have diminshed in value.
The cycle reverses, from celebrity giving brand value to their businesses to celebrity gaining value from business brand.
Who next is going to enter the hyped lawn business next? Let' wait and watch.