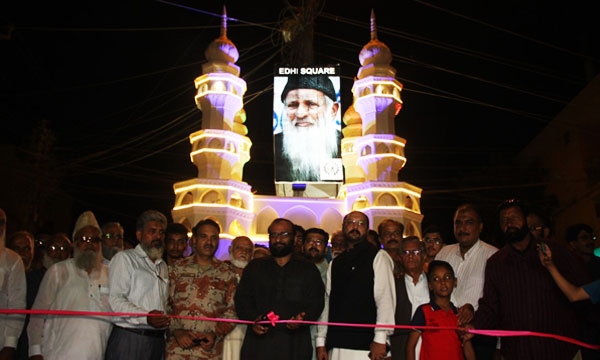 All of Pakistan was devastated when news broke out that the man who took in orphans, the young and old, who established the biggest foundation to help mankind is no longer with us. Abdul Sattar Edhi, philanthropist, ascetic, and humanitarian, departed on 8th July.
In order to celebrate him for  his services towards, a 25-feet high monument was inaugurated on 25th September, being called Edhi Square in the neighbourhood of Karachi Administration Society (KAECHS). The honour was done by his son, Faisal Edhi.
The residents of over 5,000 houses of KAECHS decided to build this monument for their late hero and legend, according to Khalid Noor, Chairman KAA.
Construction on the monument started roughly two months ago. "We have constructed four beacons and put portraits of Abdul Sattar Edhi on all four sides of the monument. This square is illuminated with colourful lights," Khalid said.
Abdul Sattar Edhi's Life Lived: Contributions, Awards & Picture Gallery
After moving to Karachi from Gujrat, British India, he established a free dispensary for the low-income residents, by 1957, his charitable activities expanded throughout Karachi. This allowed his to buy the first ambulance the very same year. Later on, Edhi Foundation received another helping hand, Edhi's better half, Bilquis Edhi.
Throughout his life, he dedicated night and day to expand his foundation, eventually, Edhi Foundation became known throughout the world as the largest ambulance services with over 1,500 vehicles transporting patients 24/7. He also provided shelter to the old who were let by their family, and to the newborns whose families gave up on them, he encouraged people to leave them rather than to kill or abandon them to a doomed fate.
"Those who believed in changing the world were either hungry by circumstance or practised deprivation by choice."
-Abdul Sattar Edhi (1928-2016)
Stay tuned to Brandsynario for more updates.