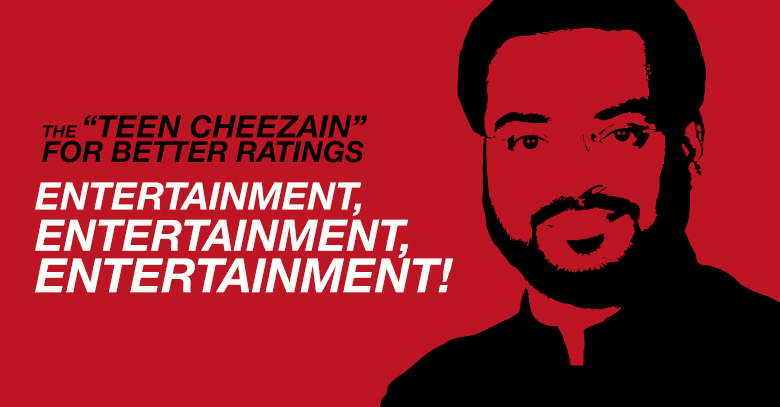 Pakistani television industry is perhaps in its most lucrative state till date, but did you know that the Top four tele shows last year came from one channel – better yet 'one person'?
Yes, that is right, Aamir Liaquat with his 'Amaan Ramzaan' has single handedly crushed ARY, URDU1 and HUM TV. With TRPs higher than those of Fatima Gul, Fariha, BulBulay and Aik Tammana – Amir Liaquat's 'Lohe Qurani' alone has received viewership that is precisely thrice than that of the country's most watched Tele soap.
"Amir Liaquat's Amaan Ramzaan Live Transimission lasted around 16 hours and comprised in it these aforementioned television programs."
The avalanche of religious shows in the month of Ramadhan is a norm for Pakistani television. Every channel, every, airs content that either imitates or tries to better Amir Liaquat's Act – in a nutshell Aamir Liaquat is the 'Man of the hour' when it comes to Islamic Transmissions – Man of '24' hour(s) to be precise.
Amir Liaquat has had a fair bit of controversies to his name, first it was his degree, than leaving GEO for ARYabruptly, only to be followed by another controversy of 'leaked backstage footage' and lastly the cherry on top 'putting a child out for an emotional powered-auction.'
Thus establishing the most signifying fact about Amir Liaquat, the man knows his trait – from his one month's transmission 'He' can beat the year-round ratings for daily soap(s) – all of them.
It's one man against entire TV channels here, this might be madness, might even be blasphemy but "This is Sparta…Pakistan."
'Momo's massively catchy jokes, Fatmagül's intense and famous looks and even Nadia (Mawra Hoccain's) innocence could not keep up with the fast paced success of Amir Liaquat Hussain.'s "Musalmano! Tukka Lagao".
ARY, HUM and URDU1 may have all the right ingredients; Daily soaps, the adopted Indian and Turkish content,Reality shows and even their own religious scholars, but it seems the year 2013 belonged to the one-man-army Amir Liaquat. His QMobile and Firdous Lawn endorsed Ramadhan shows, beguiling catchphrases and peculiar accent has done the trick for GEO.
No wonder, Mr. Jeem is busy promoting his Godfather, months before his full-fledged return to national television in Ramadhan 2014.