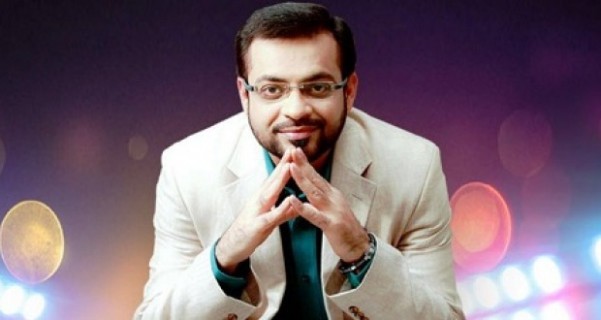 Famous televangelist and philosopher, Aamir Liaquat, is all set to begin his career on the big screen as an actor and we might not be ready for it! The budding actor will be donning a role of a scholar, close to his real life in the movie by veteran director, Syed Noor.
While we all have seen him as scholar, a politician, a morning show host, a singer and an entertainer on a game show; now a cinematic appearance as a romantic hero is next in line by Liaquat, surely coming as quite a surprise for the whole nation.
"I wrote a screenplay four years ago. I was keen to make a different kind of love story after Majajan but faced many casting challenges while selecting a male actor. Nobody quite suited the requirements of the role," Syed Noor told Images, Dawn while elaborating about his movie.
Syed Noor wanted Aamir Liaquat for his movie when he saw his versatility on his T.V shows . He further explained that because of Mr. Liaquat's ease in front of the camera and  ability to manage and capture audience's attention, he is the right fit for the untitled movie.
"When I met him one day, I narrated the story to him. He listened carefully and smiled. He praised the script and its great message and agreed to do the film. I hope that our journey will become a milestone in our respective careers and become a source of great value to the film industry, its audience and Muslims all over the world," he added.
What's more, the movie is based on a romantic story and Saima has been booked to be the lady love of Aamir Liaquat in the movie. Slated to be released in 2017, the movie will be shot in both local and foreign destinations.