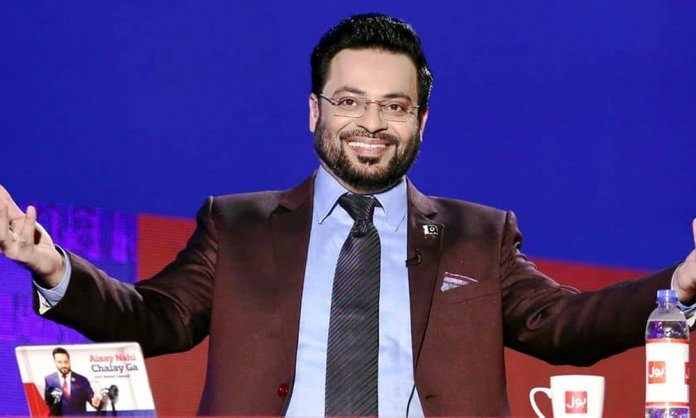 We all remember the dramatic breakup between BOL Network and Aamir Liaquat that happened last year.
In a round of explosive tweets, the televangelist declared his divorce from BOL and ended his year-long relationship with the channel.
Apparently, the channel owed him a whopping PKR 8.5 Crore.
The journey has come to an end & not a friendly end. Now I am not part of #BOL. They owe me my dues. #KhudaHafizBOL

— Aamir Liaquat Husain (@AamirLiaquat) November 18, 2017
He even roasted the network by claiming that he was often paid to defame various personalities on his shows. What's more, he even leaked his conversation with BOL's owner, Shoaib Shaikh regarding his overdue salary.
Later, he gained the presidency of 24 News Channel but a ban was imposed on the host by PEMRA. He was even barred from social media and his accounts were blocked by PTA.
Soon after the ban was lifted, Aamir Bhai turned over a new leaf and apologized for all the propaganda against BOL.
"I APOLOGIZE TO SHOAIB SAAB, HIS WIFE AND ALL MY COLLEAGUES AT BOL NETWORK FOR ALL THAT I HAVE SAID.

I AM STARTING A NEW JOURNEY AND THEREFORE, WANT TO SAY SORRY FOR ANYTHING I PREVIOUSLY SAID."
Now in yet another shocking turn of events, the anchor has been spotted promoting Shab-e-Mairaj transmission on his former T.V Channel.
#ShabeMerajMeinBol pic.twitter.com/ViETHt4ot2

— Aamir Liaquat Husain (@AamirLiaquat) April 11, 2018
Named "Shab-e-Mairaj Mein BOL", the transmission will be broadcasted live on the holy night, according to www.aamirliaquat.com.
Liaquat is himself promoting the segment on Twitter, surprising his fans with the unexpected move.
#ShabeMerajMeinBol pic.twitter.com/POCWzm8Ug8

— Aamir Liaquat Husain (@AamirLiaquat) April 11, 2018
Maulana Bashir Farooqui of Seylani Trust will offer special prayers on the occasion.
Does this mean that all is well between BOL and Liaquat?
Will we even see him hosting Ramadan transmissions and a new game show in the upcoming months?
Let's wait and watch.