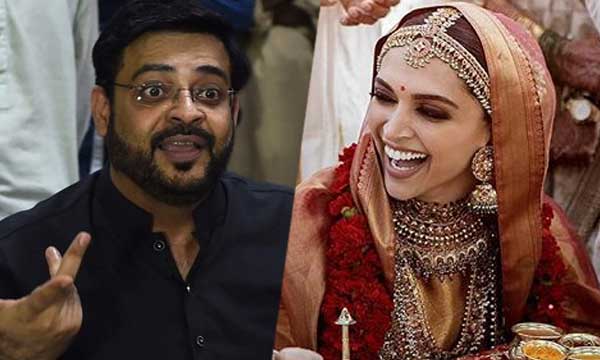 Deepika Padukone and Ranveer Singh's marriage has taken social media by storm.
The superstars rolled out their dreamy wedding pictures after making their fans wait for it. And fans were left in awe over the breath-taking images of the power-couple.
While their romantic moments were bound to make anyone's heart melt, Aamir Liaquat was apparently repulsed by the happy sight of the bride.
— Ranveer Singh (@RanveerOfficial) November 15, 2018
Taking to Twitter, the controversial televangelist didn't shy away from mocking Deepika in an offensive post.
The tweet is now deleted, owing to the backlash the anchor received after his terrible attempt at trolling and comparing her to a shark.
But this didn't end here! The politician lost his cool after Twitterverse went violent on his tweet.
Indians waged war on him and Liaquat didn't spare them either.
Things escalated pretty quickly and rude statements were exchanged.
Pakistanis too slammed Aamir Liaquat for his derogatory post!
Breaking news amir liaquat ka zehni tawazun thek Nahi hy

— Umair Waheed (@Umairwaheed30) November 16, 2018
His battle with Indian Twitterati is going viral for all the wrong reasons.
Indian Twitter Par Dunya Bhar Ky Samne @PTIofficial Ky Aamir Liaquat Ki Pitai Lag Rahi Hai 😂😂😂😂 Bara Maaja Aariyaa Hai pic.twitter.com/SfQz8hhtsO

— Sohaib Bin Riaz 🇵🇰 (@Sohaibinriaz) November 15, 2018
ab amir liaquat kahy ga ye indian media ko mene hi bnaya hy me hi isko yaha tak laya hu hahahaha

— Syed Faraz Ali (@syedfrz) November 15, 2018
One day my Pakistani friend told me, "Amir Liaquat is disgrace to whole Pakistan", and now I feel him.

— rohit (@ItsRohitx) November 15, 2018
What do you think of Aamir Liaquat's tweets? Lets us know in the comments below.