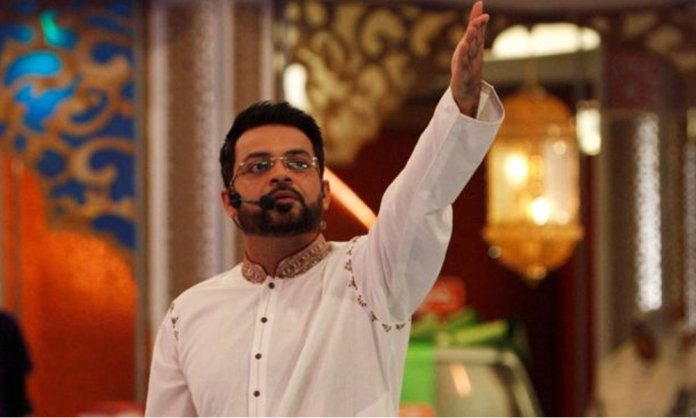 Aamir Liaquat has made to the news again and as expected, for all the wrong reasons.
We all remember how the controversial host lashed out at Pakistan Tehreek-e-Insaaf (PTI) when Firdous Shamim Naqvi had refused to give him a party ticket for Elections 2018.
Aamir Liaquat's Second Wife Tooba Anwar's Picture Goes Viral!
Later, Imran Khan resolved the matter by granting him a PTI ticket for the NA-245 Constituency.
#NA245
کی محبت تو سیاست کا چلن چھوڑ دیا
ہم اگر پیار نہ کرتے تو حکومت کرتے… pic.twitter.com/YYXQPUAmMi

— Aamir Liaquat Husain (@AamirLiaquat) June 7, 2018
Now that he has won and has even made it to the Nation Assembly, Liaquat is miffed with his political party once more.
Here's What Went Down!
In a shocking social media fiasco, the televangelist slammed Pakistan Tehreek-e-Insaaf leadership for not inviting him to a meeting at the Governor's House.
According to the politician, all MNAs and MPAs from Karachi were included in the meeting.
میں پہلے ہی پوزیشن کلیئرکردوں
گورنر ہاؤس میں اس وقت کراچی کے تمام ایم این ایز اور ایم پی ایز کا کا اجلاس منعقد ہورہا ہے لیکن بوجوہ اس میں مجھے نہیں بلایا گیا۔۔۔ کوئی بات نہیں! اس طرح ہوتا ہے اس طرح کے کاموں میں

— Aamir Liaquat Husain (@AamirLiaquat) August 28, 2018
However, this was just the start of Aamir Bhai's outburst against PTI and Imran Khan. Speaking to a talk show on Samaa TV, he accused IK of ignoring his advice and not visiting Quaid's mausoleum after PTI's win in Karachi
He added that Governor Houses are still being used for meetings and IK's claims of banning VIP protocols were false.
What's more, Liaquat claimed that Kaptaan is neglecting Karachi as it has not been a politically significant city for him.
Imran Khan Responds to Aamir Liaquat
Taking immediate notice of the matter, Prime Minister Imran Khan responded to Aamir Liaquat and resolved the situation.
Aamir took to Twitter and revealed his discussion with Kaptaan on the situation. Apparently, Khan contacted him and assured him that he will deal with all of Liaquat's concerns.
چیئرمین عمران خان کا مجھ سے رابطہ
مجھے بیان دینے سے روک دیا
تمام تحفظات دور کرنے کی یقین دہانی
میں نےمیڈیا کے ایک حصے کی جانب سے غلط اسکرین شاٹ چلانے کی وضاحت کی اور عمران خان نے ان کی غلط بیانی پر افسوس کا اظہار کیا1/2

— Aamir Liaquat Husain (@AamirLiaquat) August 29, 2018
According to Aamir's tweet, PM will be soon visiting Karachi. What's more, IK instructed him to protect party discipline and play his part as Kaptaan's player on the team.
میں کراچی آرہا ہوں ، آپ جن کے گھروں کے لیے پریشان ہیں حل نکل آئے گا، عمران
مجھے معلوم ہے کہ آپ کو کسی چیز کی تمنا نہیں بس پارٹی ڈسپلن کی پابندی کریں، عمران
آپ کو میں نے چُنا ہے ، آپ میرے کھلاڑی اور اثاثہ ہیں ، عمران
آپ کو شکایت کا موقع نہیں ملے گا، عامر لیاقت
Good Luck، عمران
2/2

— Aamir Liaquat Husain (@AamirLiaquat) August 29, 2018
The Case of Leaked Whatsapp Voice Message
According to The News, a Whatsapp voice message by Aamir Liaquat has leaked, revealing the real story behind Aamir Liaquat's tiff with PTI.
The message sent on Whatsapp group of Sindh's PTI parliamentarians, the politician has slammed lawmakers of his party.
Amir Liaquat left Sindh Parliamentarian whatsapp group. See the lil convo.#Amirliaquat @AamirLiaquat pic.twitter.com/uPZvMNey1h

— Sabeen Riaz (@ITheTaurus) August 29, 2018
As per the clip, Liaquat was actually angry for not being invited to Sindh Governor Imran Ismail's oath-taking ceremony.
Listen to the leaked Whatsapp voice clip here.
When PTI leaders failed to satisfy him over the matter, Aamir Liaquat exited the Whatsapp group.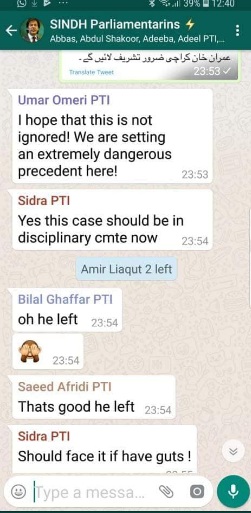 Is Aamir Liaquat leaving PTI?
While everybody was speculating that Aamir will be leaving PTI, the televangelist has finally cleared all the rumors.
He openly expressed his love for Khan and revealed that he is not leaving the party.
شرارت نہیں کرتا خان سے پیار کرتا ہوں ! لوگ تحریک انصاف چھڑوانا چاہتے ہیں مگر نہیں چھوڑوں گا سب کی خواہشیں دھری کی دھری رہ جائیں گی https://t.co/qi6Ukkb9jl

— Aamir Liaquat Husain (@AamirLiaquat) August 29, 2018
Earlier, in a statement to Samaa TV, the scholar turned entertainer clearly said that he is going to make the ultimate decision soon.
"I will share my personal decision before September 4 whether I will sit on government benches or opposition benches"
PTI Leaders Respond to Aamir Liaquat
Meanwhile, PTI members Faisal Vawda and Faisal Javed have broken silence on the matter, claiming Liaquat's allegations as baseless.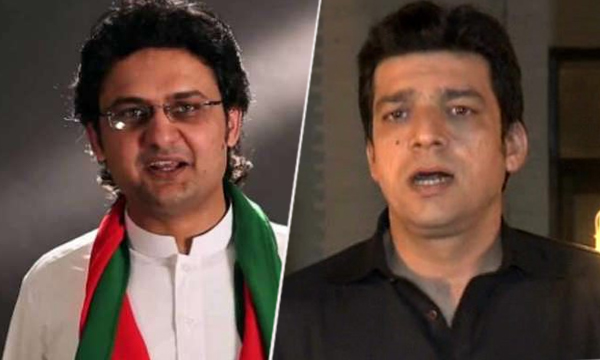 According to Faisal Javed:
"Even if Imran Khan had nominated a pole instead of Aamir Liaquat, it would have won"
However, Vawda called Aamir Liaquat his brother and claimed that despite his hot-headed statements, PTI will solve all disputes with him.
فيصل واوڈا نے عامر لياقت حسین کو جذباتي قرار دے ديا#SamaaTv pic.twitter.com/cRpfHD63c2

— SAMAA TV (@SAMAATV) August 28, 2018
However, the MNA's clarification triggered Aamir Bhai all the more and warned Faisal Vadwa to watch his tongue.
Replying to @PTISindhOffice and @FaisalVawdaPTI by @AamirLiaquat pic.twitter.com/t4jVJ3bsjs

— Aamir Liaquat Husain (@AamirLiaquat) August 28, 2018
Twitterverse is clearly enjoying the drama.
Aamir Liaquat to PTI fans right now pic.twitter.com/A9n9vFZwSk pic.twitter.com/18fkUhc9l5

— ووٹ کو عزت دو (@Muhammad992976) August 29, 2018
Everybody wants Aamir bhai to stop whining for once.
@AamirLiaquat You are behaving like a toddler. Also you are a confused man don't know how to react. Grow up this is real life politics. IK is fighting for Pak and you are crying and whining. Neither disappoint us (ur fans) nor your constituents.

— amun (@amun1122) August 29, 2018
Who thought Aamir Bhai will take a leaf out of Saleem Safi's books.
PTI was prepared for Saleem Safi but Aamir Liaquat came out of syllabus 🤨😂#AamirLiaquat#ShameOnFakeTabdeLi@Alishbabukhari1 @Madeeha_Naqvi @MediaCellPPP @Abid_PPP @Majid_Agha pic.twitter.com/8rGztJ0kC1

— Đαñιуαℓ zαfαr мαʝσкα (@MajokaDaniyal) August 29, 2018
Let's see how Imran Khan and PTI deals with the matter.
Stay tuned to Brandsynario for more updates.