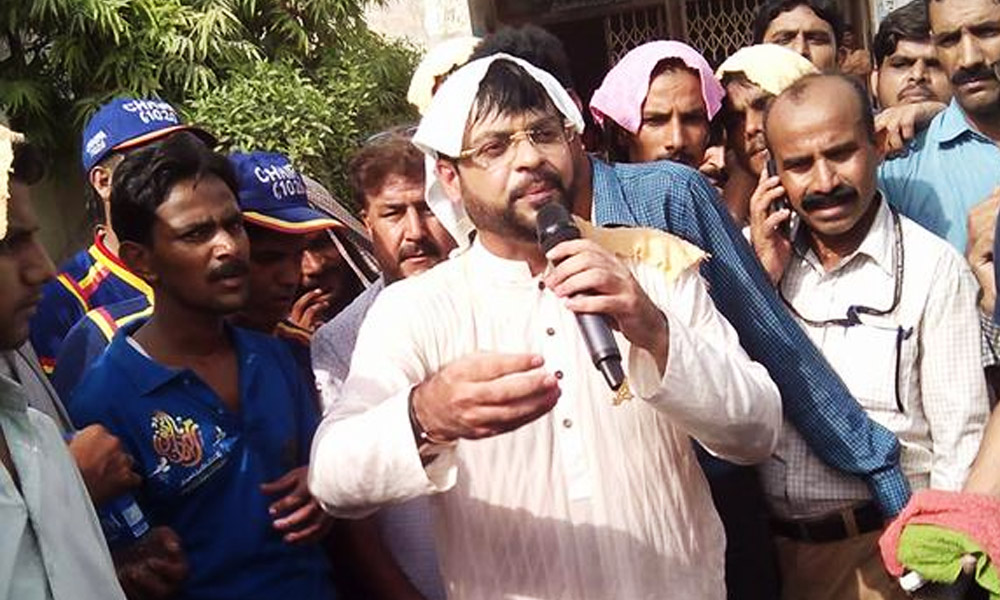 The past couple of days were no less than a doomsday scenario in Sindh province, with the apocalyptic heat wave claiming the lives of more than 1000 people.
Nature's curse inevitably turned Karachi into a furnace-like city and the lethal temperature soared as high as 45 degrees Celsius. As if the torture of the blazing heat was not enough, extreme power outage and the shortage of water heightened up the upheaval of Karachiites to a notch further.
While the melancholy in the metropolis alerted the media, Pakistan's top televangelist Aamir Liaquat took to the city's leading health service centre, Jinnah Hospital to visit the ailing victims of the heat wave.
On the 23rd June Iftar Transmission of Ramazan Shareef on Geo TV, Liaquat ditched his usual lavish set and conducted a special live broadcast at the hospital.
Special Live Transmission from Jinnah Hospital with Aamir Liaquat on 5th Ramazan with #AamirLiaquat only on #GEO pic.twitter.com/OYRe0Y49BH

— Ramazan Sharif (@RamazaanSharif) June 23, 2015
#HelpHeatStrokeVictims Special Live Transmission from Jinnah Hospital with Aamir Liaquat on 5th Ramazan with on #GEO pic.twitter.com/9b6E7jOi5C

— Ramazan Sharif (@RamazaanSharif) June 23, 2015
Watch the video below:
[dailymotion id="x2v9rgr"]
There, the religious scholar unveiled the real situation of devastation where wrecked families were in tears, ambulances were incessantly bringing heat stroke patients and dead bodies were turning up every now and then.
[dailymotion id="x2v3s7w"]
Under the sizzling sweltering sun, a large number of crestfallen people from all parts of the province gathered beside Mr. Liaquat to share their tales of despair. However, the misery and frustration written across their faces was enough to speak volumes about the tragedy they were going through.
[dailymotion id="x2v9u0c"]
The philanthropic relief efforts done by the honorable Army of Pakistan were acknowledged in heaps during his live transmission, for they were the first to establish desirable camps of clean drinking water and an adequate ward for immediate treatment of heat stroke victims at the Jinnah hospital.
[dailymotion id="x2v9u1w"]
During his show, Liaquat frequently appealed to the nation to generously donate water and ice, for the hospital was in desperate need of these life-saving necessities. Soon enough, hoards of people started turning up at the health center to contribute either hefty amounts of money or huge amounts of ice and water.
[dailymotion id="x2v9tvf"]
While he conducted Iftar with around 2000 people at the outskirts of the hospital, he also endowed his one-month television salary and one-day revenues earned from Inaam Ghar's promotion in the name of relief efforts for Karachi's heat wave calamity.
Watch the video below:
[dailymotion id="x2v9r0x"]
Though people surely love to hate Aamir Liaquat and he is seldom in anyone's good book, many have been quite touched with Liaquat's thoughtful gesture.
I to apologize to Aamir Liaquat for taunting him and making fun of him He's doing a great job for the heat struck city and its people — Moochar (@AsliBinLaden) June 23, 2015
I spent such a long time believing conspiracies but yesterday amir Liaquat became one of my favorite! — Kay Ulma. (@epicmagician) June 24, 2015
This man @AamirLiaquat left people speechless today after Special Transmission on #KarachiHeatWave — Ali Qasim (@aliqasim) June 23, 2015
I don't care if it was just a publicity stunt – we can not forget the people who died this #Ramadan due to #KarachiHeatWave Amir Liaquat — Muhammad Omer Javaid (@Silverfulminate) June 24, 2015
Wht Amir Liaquat did today was indeed very kind & only god knows what his intension was so stop passing judgemental comments. — Anum Minal (@AnumMinal) June 23, 2015
Saw Amir Liaquat's show yesterday. I mean, what he did was a really nice thing. We need to accept that. — جنت میر (@umm_jay) June 24, 2015
Amir liaquat ko jitna bura keh lo Aik baat mani pray gi Akele garmi mein gaya tha bahar banda Jbky baqi AC mein Q-MOBILE taqseem krhy thy. — MURTAZA (@GharLeJaa) June 24, 2015
I must appreciate Amir liaquat. #Respect. — Dreamer (@IMahrukhRizvi) June 23, 2015
To be very honest, i was the biggest hater of amir liaquat but his today's efforts for karachi are highly acknowledgeable — Danish Ilyas (@Pakistanislove) June 23, 2015
One has to admit, only Aamir Liaquat had the guts to take the initiative in the boiling heat, unite the city and unleash the true picture of Karachi's catastrophe. Massive respect for him!