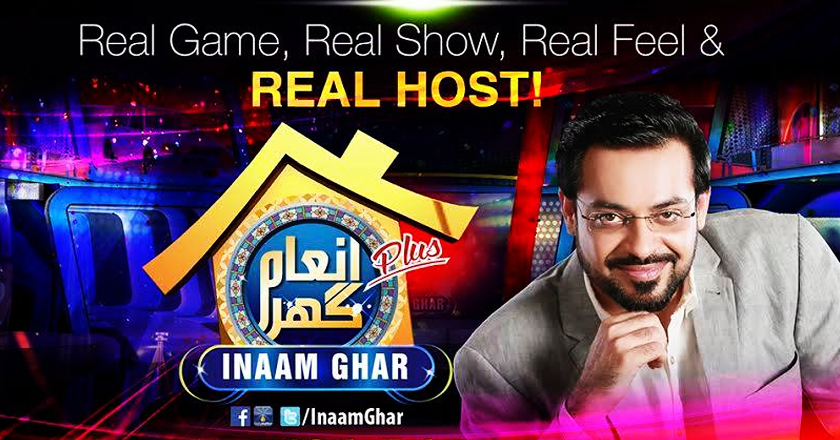 Keeping up with the current bandwagon of 'Game Shows' in Pakistan, Aamir Liaquat is all set to make a grand comeback with apparently, Asia's Biggest Game Show Ever – Inaam Ghar Plus.
The show will be aired on GEO TV from 13th February 2015 on every Friday and Saturday.
In order to register for the Program, the viewers can send an SMS to IG to Name, City, CNIC and SEND to 436.
Viewers can also register through the website at http://www.inaamgharplus.tv/register.
The Registration Rules for attending the live program are as follows:
• Children under 12 years of age are strictly not allowed.
• Inaam Ghar Plus entry passes are not being sold.
• Beware of forgery! GEO network will not be responsible in case of any mishap.
• Seats in Inaam Ghar Plus are on first come first served basis and only dealth through registrations.
• Maximum 4 members of a family can participate in Inaam Ghar Plus.
Watch the show's promotional ad here: 
The rapid increase and the unsurpassed popularity of game shows in Pakistan has proved how much the nation loves 'free gifts' and cashing on this syndrome, every leading channel has launched its very own version but Dr. Aamir Liaquat Hussain remains unsurpassed in terms of popularity, appeal and ratings.
It is yet to be seen how the show fares this year in terms of participants and overall popularity, since now there is a lot of new competition which has recently sprung up.
A very similar show which recently started is hosted by Faisal Qureshi and called Jeet Ka Dum.
Which game show do you like most? Share with us in the comments below.