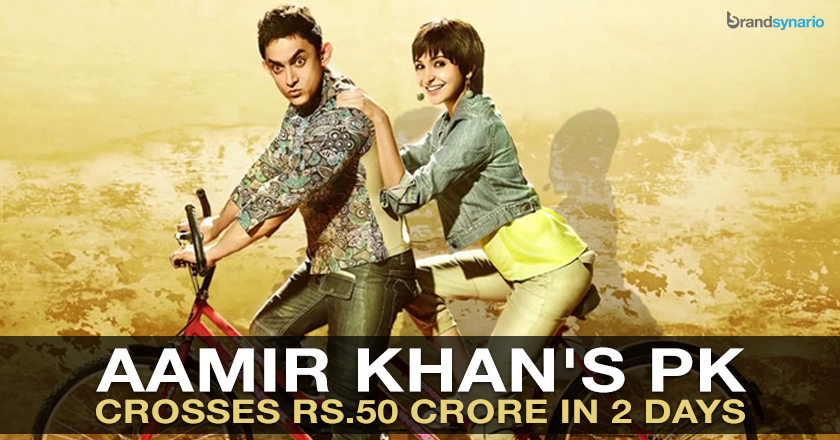 With Rajkumar Hirani making blockbusters one after another and Aamir Khan's obsession with perfection, the anticipation for their latest release together, PK, was sky high. The movie released at a record 4,844 screens globally and while, it received five star reviews, it also generated criticism from the religious segments of India.
PK made INR 26.63 crores on its opening day and was expected to make INR 91 crores by the end of Sunday, breaking Salman Khan starrer Kick's records. While the movie had garnered a lot of attention even before its release, it failed to beat the records of Happy New Year and Dhoom 3.
PK is a story about an alien, played by Aamir Khan, and a journalist, played by Anushka Sharma, condemning god men. According to Wikipedia, a godman is an Indian term used to describe a charismatic guru supposed to possess extraordinary powers and are usually viewed in a derogatory manner. After the legendary 'All is Well', Aamir Khan has now given the public new catchphrases: 'Wrong number', 'Jo Darr gaya wo Mandir gaya' and 'Hum confusiya gaye hain'.
Rajkumar Hirani has once again weaved his magic through his directorial brilliance and Aamir Khan with his flawless performance has highlighted a critical social message through humor. Anushka Sharma's performance as Jaggu and Sanjay Dutt's acting in the small cameo role is quite commendable too.
The movie's story sparked criticism by Hindus and the public resorted to Twitter with the hashtag #BoycottPK as a protest. The protest was met by hashtag #WeSupportPK in response by those who defended the movie.
Celebrities in India are raving about the movie and the cast's performance too. Here is what Sanchin Tendulkar and other celebrities had to say about the movie, PK:
Watched the screening of PK. An outstanding film!!! Aamir khan is an institute. Simply loved him. Bigger fan of Rajkumar Hirani after this.

— Neil Nitin Mukesh (@NeilNMukesh) December 18, 2014
PK is hilarious and emotional in equal measure…it's a game changing film….Kudos to the team!!! @AnushkaSharma you were superb!!!

— Karan Johar (@karanjohar) December 18, 2014
PK yet again proves that Rajkumar Hirani is the best director of our country…it's undoubtedly Aamir Khans best performance to date….#PK

— Karan Johar (@karanjohar) December 18, 2014
#PK 1st day all-India net collection: approx. Rs. 25.6 crore. Phenomenal considering that it's a social film. Word of mouth is fantastic!!

— Komal Nahta (@KomalNahta) December 20, 2014
No one but @aamir_khan could have done pk !!you made me cry and laugh out aloud innumerable times. Anything that I say is less..

— Sonam Kapoor (@sonamakapoor) December 18, 2014
So watched#pk last night Outstanding performances by @aamir_khan @AnushkaSharma sanjay dutt go watch u will love it @ImZaheer @Imangadbedi

— yuvraj singh (@YUVSTRONG12) December 19, 2014
#PK could not have been better timed.This film i hope redefines the 'MINDSCAPE' of #India. @RajkumarHirani @AnushkaSharma @aamir_khan ??????

— Dia Mirza (@deespeak) December 18, 2014
Salutes raju hirani..u made me smile, u made me laugh n u made me cry n u got me thinking!!! #pk . Ur the best!!!!!

— Divya Dutta (@divyadutta25) December 18, 2014