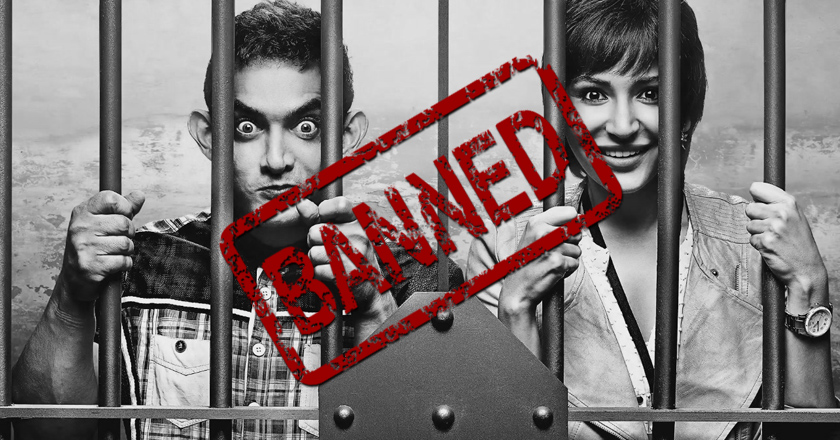 By Yasin Ansari
With the release of much-awaited Indian movie PK on December 19, a Pandora box of religious controversies has also opened; though Aamir Khan Starrer has set new records with over Indian Rs 200-crore mark at the domestic box office.
PK (Pee Kay means drunk) is not an extraordinary movie but an entertaining one with not a new subject at all. In recent past, there are number of Bollywood movies that have discussed similar topics. The film, which features Aamir as an alien, takes a hard-hitting swipe at organized religion, god and godmen. Other casts include Anushka Sharma, Sushant Singh Rajput, Boman Irani and Sanjay Dutt.
The movie has received mixed reviews from critics, but most have praised Khan and director Rajkumar Hirani for showing courage to take on a deeply sensitive subject. Film analyst Namrata Joshi says both Aamir and Raju deserve credit for bringing such a sensitive topic in a mainstream commercial film.
"Aamir is a superstar and that is why this movie has reached millions. It has made people think. Religion has been debated in many regional language films and earlier Bollywood films, but Aamir's presence has made the difference this time," she says.
Aamir Khan's headache started with the release of film's first-look poster earlier this year in which he was posed nude with a strategically placed boom-box. Critics called it one more in the perfectionist actor's list of innovative publicity stunts, and the buzz on social media has been pitiless.
After sparking protests for controversial nude poster, the film has drawn the wrath of a few Hindutva groups who claimed that it hurt their religious sentiments. People showed their anger on social networking sites such as Facebook and Twitter.
The secretary of Hindu Legal Cell has now reportedly filed FIR against Actor and Director of the film. The petitioner, an NGO called "All India Human Rights and Social Justice Front", argued that some scenes in the film would hurt religious sentiment and also disturb public order.
Rejecting the petition, Chief Justice of India, RM Lodha, ruled "Don't bring religious facets here. These are matters of entertainment. If you restrict it, it will affect others' rights. Everything is on the internet. What will you hide?" The chief further said, "Indian society is very mature and knows the difference between entertainment and other things."
Interestingly, Senior BJP leader and a Hindu hardliner Mr. LK Advani, who recently watched the film hailed the movie as a "wonderful and courageous film".