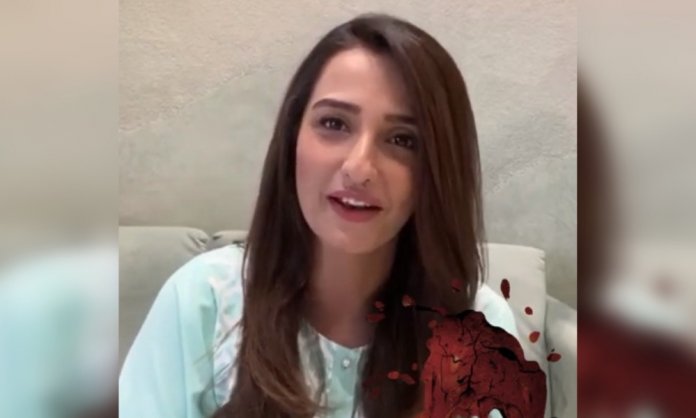 On Thursday, the 12 pm news gave TV watchers a strange surprise as a never seen before stain appeared on their TV screens. An unusual brown splat was seen interrupting the news, causing utter confusion amongst the audience, and concerns began to rise on social media platforms.
The stain kept reappearing frequently and took over multiple news and entertainment channels. The mysterious stain continued to hijack news channels for 24 hours, leading to news reporters' frustration, who eventually attempted to wipe it off. The next night by 8 pm, Surf Excel's new ad-film was revealed and, with it, resolved the stain's mystery.
Here's the video:
The leading detergent brand went big with its campaign, as the stain not only took over news channels but also Instagram news feeds and stories of celebrities and prominent influencers. Renowned faces, including Ayeza Khan, Momal Sheikh, and Kinza Hashmi, posted videos talking about their routine when a stain took over their content but was not given any attention by them. However, their audience picked up the strange activity, building curiosity amongst thousands of followers as they commented on the ugly dry stain that was spoiling the videos of their favorite celebrities and bloggers.
Check these out:
Instagram feeds and stories were also flooded with screenshots taken from news channels when the stain appeared, with people sharing their views about it. At the same time, some kept inquiring out of curiosity and wondered if anybody else had seen them. A video of newscasters was seen circulating across Instagram, where the stain interrupted their news bulletin, causing them to pause as they tried figuring out what it was all about. Several top channels dealt with the dried in tough-looking stain in their own way, chatting about it, trying to clean it, wondering what it was all about, but at that stage, no one found the correct answer.
The hashtag #WhatTheDaagh was trending at #2 on Twitter by night as Twitterati's took the conversation by storm, sharing their mixed views on the mysterious stain that was refusing to leave their screens alone. All in all, stains had taken over our feeds, and till the reveal, we grappled with the issue of how to remove them.
Surf Excel's campaign, #DaaghonKaChampion was picked up rapidly by social media platforms bringing limelight to a stubborn stain and positioned the detergent as the champion for its ability to remove stains. Surf Excel's enhanced stain lifter technology now enables it to remove unwanted stains of mud, ketchup, tea, curry, and grass even if they stained their clothes days ago.
Anyone who does laundry knows how tough it is to remove a dried in the stain. The horror of rubbing endlessly makes one want to remove it as soon as possible. But now Surf Excel ensures its removal in just one wash assuring its user of being a proud and effective #DaaghonKaChampion!