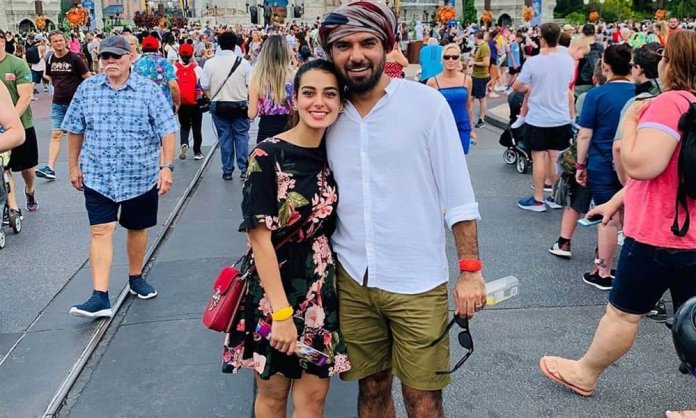 How many times have you been shamed for unwaxed arms or for your unibrow by random family aunties or the parlour staff?
It really is no secret that the society holds women up to certain standards of beauty which, if not conformed to, can raise many an eyebrows at your "femininity" and invite intrusive questions like the following, if not worse:
Razor maarti hain kya?
Hot wax keraayen, cold se arms dirty se nahi lagtay hain?
Legs wax nahi keraatin? Haaye Allah, kyun?!
Her month aaya kerain, aapki growth ziyada haina?
Shaadi kaise hogi aapki ager aise hee hairy rakhein gi apne aapko?
Aap sleeveless kyun pehenti hain jab aise hairy arms hain?
Why are we giving you all this background, you might wonder.
Well, after attending the HUM Awards in Houston, Iqra Aziz and Yasir Hussain are vacationing at Walt Disney World in Orlando.
With their cute, casual clothes and matching white sneakers, they look nothing short of adorable.
However, some Twitter user who is also a Psychologist to be, decided to shame Yasir Hussain for wearing shorts on his visibly hairy legs.
Dont wear shorts in public if you got an amazon forest on your legs pic.twitter.com/P3OwUT2nUj

— Mehak ali fatmi (@MehakZahrafatmi) October 8, 2019
While the body shaming earned her many a Retweets because, you know, it's funny and all, some Twitter users saw exactly what was wrong with a statement like that and called it out.
Its nowhere near a forest, it looks perfectly normal. You, however, need to update your knowledge re human bodies and physiology.

— R (@sorrhetorical) October 8, 2019
Uski tangain uski marzi …

— Atika Mirza (@atika_mirza) October 8, 2019
How are you any better than the women who shame other women for having body/facial hair? We're all mammals goddammit, it's perfectly normal and hygienic to have and keep leg hair. https://t.co/3TsRlAzAff

— Hira Mannan (@themewlyweds) October 8, 2019
It is high time we understand the importance of empathy and the difference between a good and a bad joke.
Moreover, the future of mental health patients in Pakistan isn't quite bright if psychologists-to-be are going to go around bullying people instead of breaking the viscous chain and encouraging people to be more empathetic and kind.
What are your thoughts? Let us know in the comments.
Stay tuned to Brandsynario for more news and updates.