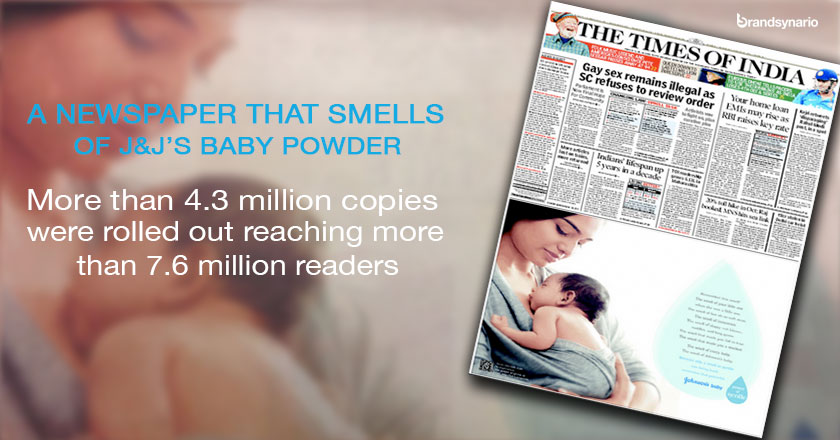 Johnson & Johnson, the brand synonymous with child care took a bold step by publishing newspapers that smell of baby powder.
Johnson & Johnson India, in collaboration with their media agency, OMD published half page front ads in leading newspapers including The Times of India and The Hindu. The ad was infused with the fragrance of J&J's baby powder smell.
After an initial pilot phase, more than 4.3 million copies were rolled out reaching to more than 7.6 million readers across 8 metropolitan cities. 
"Babies have the power to make us gentle and just as your baby brings out the gentlest in you; babies have driven J&J to be the gentle with their products. This was the core idea that we wanted to convey through multi-media touch points, though we had a key challenge at hand – How do we bring the power of gentle alive in a newspaper?" said Mamatha Morvankar, MD of OMD India.
"We felt that there was a strong connection between the scent of Johnson's baby powder and the millions of sweet gentle memories that parents have with their little ones. From this germinated the thought of a scented newspaper," he said.
According to Scott Smith, the founder of a futures research lab, scent is "being mined as a new focal point of interaction for companies looking to break through a cluttered communication environment."
For Johnson & Johnson, the ad is a carefully created attempt to bring back nostalgic memories as it is hard to ignore a smell, especially one that has beautiful childhood strings attached to it.
J&J India faced a troubled 2013 as the company's cosmetics manufacturing license was cancelled after investigators claimed that the produced talcum powder contained cancer-causing substances.
Newspaper industry has faced the negative effects of changing times more than any other industry worldwide; nevertheless, it is still considered an important communication tool in many developing countries including India. By merging it with scented advertisements, J&J took a tech savvy approach to reach out to its customers in a way that no smartphone or mobile app can do for now.
Let's just hope J&J continues to make motherhood easy for women around the world.