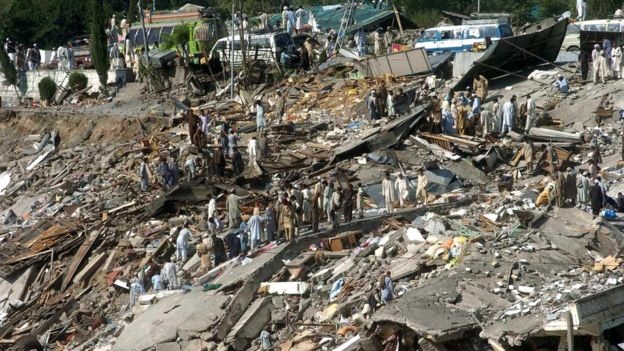 Ten years down the memory lane, 8th October perhaps records the most tragic of all natural disasters ever occurred in Pakistan. Back in 2005 to this date, the nation lost more than 73,000 people as a massive earthquake of 7.6 magnitude rocked our beloved homeland. In memory of the martyrs, Pakistan today observes The National Disaster Awareness Day.
The catastrophe created its havoc in Islamabad, Azad Jammu and Kashmir along with parts of Khyber Pakhtunkhwa, reducing  many cities to rubble. Around 128,000 souls were injured, 200 humans are still missing and 3.5 million people became homeless while an infinite number of families were torn apart and countless children became orphans
Such a mark of devastation, 8th October 2005, left on the whole nation that even a time as long as a decade could not heal the pain of the affected people.
While the whole state has soaks in melancholy, Twitter too mourns while reminiscing the calamity that hit the nation ten years back. Read the voice of  bereaved Pakistanis, as they recall the moments of the epochal earthquake of 8th October 2005.
10 years ago today on 8th October 2005 @ 8:52 AM, a massive devastating #earthquake in #Kashmir & #Balakot 1/2 pic.twitter.com/7HQ8rBxoUi

— Sajid Razzaq Khokhar (@sajid_razzaqkkr) October 8, 2015
#Earthquake I still remember that morning.8th october,2005 8:52 am. It has been 10 years since that dreadful #Earthquake — Asma S.Chishti (@asmasch) October 8, 2015
how in 10 years everything has changed but the pain still resides. felt that one and can never forget. #Earthquake — Mariam Imran (@mariamiumer) October 8, 2015
I was in 4th class ~ #earthquake — Myna (@19Myna) October 8, 2015
I was in Fsc(1) & in chemistry lab of my college all chemicals was fell down whole lab is shaking the ist #Earthquake which i felt in life — Maryam Tahir (@MaryamTahir12) October 8, 2015
10 years have been Passed but i couldn't forget that day. Pls pray for all those Read one time Allhamdu and 3 time Qulhu #earthquake — Zara Khan (@PinkuPTI) October 8, 2015
The dilemma is that after ten years of earthquake, still funds are allocated in budget for building New Balakot City. #Earthquake — Taimur Ali K Mohmand (@iamTribalKhan) October 8, 2015
The black day in history of Pakistan 8 Oct 2005 may god bless all the victim's #earthquake — zain qasim (@zainqasim7) October 8, 2015
#Earthquake #AzadKashmir #8Oct2005 "May they be forgiven, It was like Qiyamat-e-Sughran!" Ameen — OMER SALEEM (@OmerSaleemArts) October 8, 2015
I still get the very goosebump when i ponder over that same perilous #Earthquake……:( it caused hell damage to Pakistan…..:( 🙁 🙁 — Mahak Akram (@mahak_akram) October 8, 2015
Ten years ago..this day 8 Oct became our nightmare. Today we remember the victims in our prayers. May Allah protect us ameen #earthquake — toobafahad (@toobazafar56) October 8, 2015
#8october2005 #earthquake biggest Tragedy of #Pakistan Who suffered and died May Allah give'm peace and strength to endure their wounds Amen — SaDaF KaY (@Sadaf_KaY) October 8, 2015
Truely a horifc day in our Histry 8thOct-2005 no lesons learnt unfortuntly, v r siting on a fault lin, no disastr Mngmnt mchnism #Earthquake — Muhammad Shaban (@MuhammadShaban) October 8, 2015
Ten years!Time just flies.Incidents become a memory…a memory which caused pain that will never fade away! #Earthquake — alina iftikhar (@Alinaiftikhar) October 8, 2015
Almost at this time 10 years ago, Pakistan was shaken to its core May Allah save us from disasters Ameen #earthquake — Sαℓмαη kнαn (@Geez_Pathan) October 8, 2015
#earthquake 2005 new balakot (Bakrayal) project is stopped due to 1 or 2 individuals who r illegally sitting on the land,govt cn nt evacuate — Mehran Tanoli (@mehrantanoli) October 8, 2015
It was extremely shocking and traumatic morning when #Earthquake hits Pakistan #8thOctober2005 Prayers for Shuhada who lost their life. — Speen Khan. (@Speenkhan43) October 8, 2015
I was in 5th Class on 3rd floor of School and Our mam was Saying who is Shaking My Chair 😉 #Earthquake — Umair Sajid Minhas (@Umairsajid0017) October 8, 2015
Ten years since the #earthquake 40% of destroyed schools yet to be fixed. Is this why? http://t.co/eIcSGYnGfa pic.twitter.com/HHfLYffceW — Alif Ailaan (@AlifAilaan) October 8, 2015
#earthquake #Earthquake2005 اگر نصیحت پکڑنا چاہوں تو یہ حادثہ کافی ہے ..لیکن انسان ہمیشہ سے بےخبر ہے اوع لاپروا ہے pic.twitter.com/QnF3Rql7WL — PAKTime (@PakTimeOfficial) October 8, 2015
It's unfortunate that we as a nation can only be united when hit by a disaster. 10 years gone. #Earthquake

— Usama Bin Azhar (@UsamaBAzhar) October 8, 2015