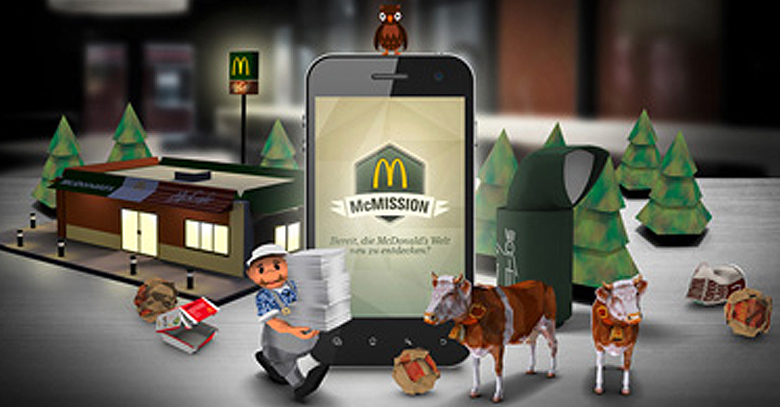 By Ufaq Ashfaque
McDonald's has launched an augmented reality application, for smartphones, that educates users regarding sustainability initiatives launched by the fast-food restaurant through its four mini-games.
Leader in Augmented technology Metaio together with creative digital agency Heye and communications agency LessingvonKlenze,came up with this application for the German audience.
The introduction of this app, which is available on Google Play and iTunes app store, came shortly after the brand published its 'Corporate Responsibility Report, named 'McMission'.
Four applications complete the entire McDonald's "McMission" series.  This application would allow the users of this application to play interactive games, satisfying their need for entertainment and educate themselves regarding the activities and events that McDonalds is involved.
These four series have been designed based on the areas where the fast-food restaurant has been involved in.
Called "Eco-Spinning", "Recycling Crash Course", "Waste-Dunking" and "Origin Puzzle", these missions are being completed by users, concluding with a mini-quiz.
These games would allow people to educate themselves about environmental preservation, but would allow motivate them to do their bit in making Earth a better place to live.
Children playing games and learning about such initiatives and seeing McDonalds be involved in such activities would also persuade them to render services and act responsibly.