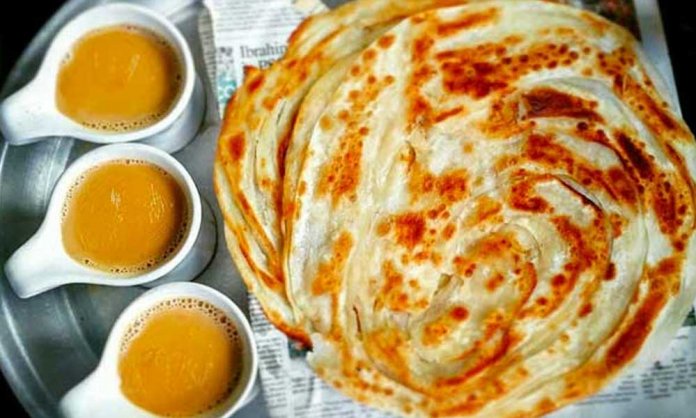 Monsoon season is upon us, and it calls for some delicious snacks. The pleasant weather with the rain showers must be enjoyed to the fullest with crunchy, flavourful, and tasty snacks.
Whether you're alone or with a bunch, these are fantastic ideas of monsoon snacks that you can whip up quickly.
1. Samosas
The classic desk favorite snack, monsoon season, isn't itself without it. The filling can be of potatoes, with peas, paneer, mutton, or noodles with vegetables. Whichever way you like them, they're fulfilling and flavourful with fingerpicking chutney!
2. Paratha Roll
There is nothing in this world that can soothe a rainy day hunger pang than a good roll. Desis also love an excellent paratha roll more than anything, and the filling can also be your choice. A puri, a paratha or a roti, each bite will transport you to a world of flavors.
View this post on Instagram
3. Chowmein
Well, this one is a hit snack, and this list wouldn't be complete without this one. But, let's get rustic on a rainy day, try Chowmein in a roadside stall and not in a fine dining restaurant. Why? Well, give a try. You won't ask this question again.
4. Jalebis
This one's for those with a sweet tooth, and it's a must-have. A piping hot jalebi can heal all your worries and moods. Pair it with milk or some namak pare, and you'll be having the time of your life.
View this post on Instagram
5. Pakoras
Onion Pakora aka onion rings, potato pakoras, spinach pakoras, and the list is endless. Whatever you call it, this is one of the most common snacks for rainy days. Easy to make, this snack truly serves the purpose of a wet evening snack quite well.
During the rainy season, family or friends time with onion pakora complimented with some beverage always gets thumbs up.
6. Dumplings
Steamed dumplings are magical comfort food. Your personal choice of meatballs with any fillings with chili oil is the most comforting snack you'll ever have. These are some of the most sought-after hot meals for rainy days.
View this post on Instagram
7. Channa Chaat
Spicy, flavourful, and versatile, this concoction of veggies and channas will brighten your mood. It will make your table complete and colorful. You can have it on its own, with some tamarind chutney or with gol gappas for a snack that'll excite everyone.
8. Paneer Tikka
Cottage cheese or paneer tikka is also every household's favorite. If you want to step this up a notch, then you can also make your paneer! These are usually devoured on skewers with roasted veggies, or you can have them in cubes with some mint chutney.
View this post on Instagram
Lastly, don't forget to have each of these with a steaming cup of chai!