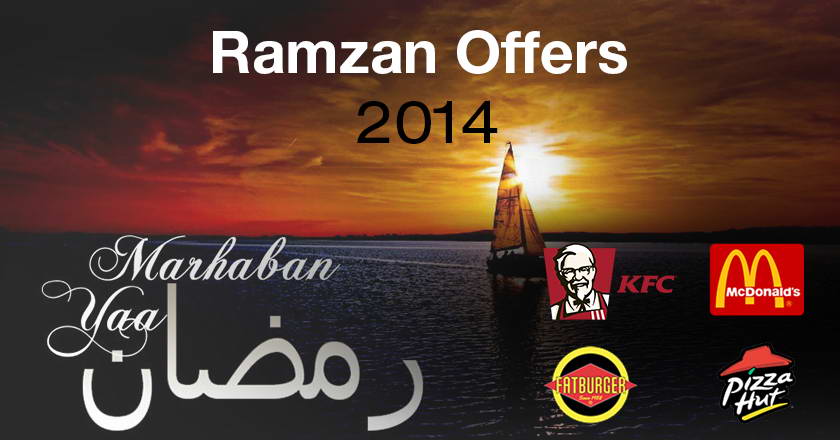 The month of Ramadan is incomplete without iftar parties and get-togethers. This being said Karachites' love for food can't be underestimated.
The fast food industry in Pakistan is well aware of their importance hence, they leave no chance to attract the food loving population to their outlets; each Ramadan they come up with tantalizing Ramadan deals for their fans.
In order to save our fans from trouble of searching, here we bring the most enthralling fast food iftar deals in town, savor on:
1. McDonald's
Known for its high-quality standards and cleanliness, McDonald's is celebrating Ramadan, through two tasteful deals i.e. 'Dine Divine' and 'Blessings to Share'.
Dine Divine features two delectable options for choice, both easily affordable and particularly suited for Chicken lovers.
Priced at 350 PKR is the first option featuring McChicken while the second option includes Spicy McCrispy in place of it for 450 PKR, the default add-ons for Dine Divine except for the burgers include McBites with Sauce and a Medium Drink.
On the other hand, its 'Blessings to Share' priced at PKR 1,095, 1,295 and 1,495 are McDonald's share boxes each one including Mc delicacies as according to its own value. Here have a look:
2. Subway
On a budget? Hungry but don't want it to be heavy? Well, Subway Pakistan is wishing you Ramadan Kareem with a simple but exciting offer of buying one sub with two drinks and getting one sub absolutely free.
3. 14th Street Pizza
Want to have this iftar with your pizza maniac friends? Well, 14th street pizza is the right choice for you.
14th street is offering an ideal deal for 4 this Ramadan, with 1 Full heavily loaded pizza, 3 sidelines, 2 slices of chocolate cake and a 1.5 Liter drink for just Rs. 2,500. So fill your tummies with some delicious pizza with 14th street this Ramadan.
4. Dunkin Donuts
It can't get sweeter and better than this!
With a mouthwatering sandwich, mini pizza, Dunkin's delicious donut and a drink just for Rs. 450. Just in case you don't want to drive down to your local Dunkin, it's also available for delivery.
5. KFC
Want it light on the pocket this Iftar/Sehri?
KFC's affordable treat is the answer for you. With just Rs. 225, KFC is offering one of its famous Value Burger along with a Regular drink, with an option of adding KFC Krushers just for Rs. 70; a valuable yet affordable delight.
For KFC fried chicken lovers, there's no need for getting sad; KFC is also offering a 'Mitao Bhook Offer', with a bucket full of 9 Chicken Pcs, 4 Dinner Rolls, and a 1.5 Liter Pepsi, it is a deal that will fill up those empty tummy's for good.
A special addition to this treat is the countless blessings of SOS children to whom KFC will be donating an amount of PKR 50 on each bucket sold. If you ask me, it's the perfect opportunity to gain blessings and food at the same time.
6. Fat Burger
Numerous numbers of Burger chains have made their way to Karachi, but only a few have remained intact with the taste buds of Karachites. One of the fast food chains that remained includes Fat Burger.
It's the very first Ramadan for Fat Burger in Karachi and the deals offered by it have surely made it worth an iftar this Ramadan. Have a look at these yummy deals offered in Karachi & Lahore that will neither go hard on your pockets nor will they compromise on taste in any way.
7. Pizza Hut
The year old love of many and a newly hate of few, Pizza Hut is once again back with its all you can eat offer this Ramadan. The craze of the town is back as Pizza Hut announces its all you can eat buffet once again only for PKR 855 + Tax.
So don't hold back your hunger and let it loose on iftar at Pizza Hut. Do take notice of the conditions applied, just a thought.
Now get up and get going, before you know, it'll be time for Iftar. Happy Ramadan.