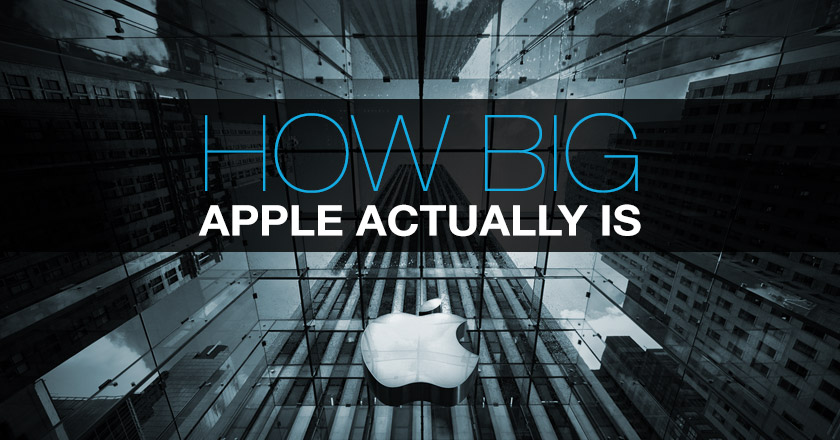 By Zulfiqar Ali Sajwani
After the unfortunate demise of Steve Jobs, the future of Apple became a common topic for speculation.
Whereas some suggested that the innovation leader is going to tumble down due to lack of visionary leadership, others believed that the company has an impeccable learning curve that will sustain it for the coming century.
After going through the facts of the recent revenues made by this giant technology provider, we believe that the latter half of the experts who suggested a bright future for Apple were correct.
Our belief is not an arrow shot in the air; following are the recent facts that clearly reveal how huge Apple is today.
1. Apple's Worth is Equal to Switzerland's GDP
Switzerland has a GDP of $527 billion and stands as one of the most progressive economies. Apple, solely, has a market cap of $506 billion. Interesting comparison, isn't it?
2. Apple Can Buy Facebook in CASH
Apple has $150.6 billion in cash. That's enough money to spread extravagantly at the brand market. It could buy Facebook at Facebook's current valuation with its cash. Even after buying the social media giant, it would still have $59 billion in cash to spend on anything else it wants.
3. Apple's Profit Margin is Almost Double Than Samsung's Profit
Apple made a whopping $13 billion in terms of profit last year. Samsung, its hardcore competitor, made $6.3 billion. But here is the fun part; Samsung sold twice as many phones as Apple.
4. Apple is 16.2 Times More Valuable than Dell
Apple stands as the most valuable company in the global market. Compared to other computer makers, Apple is 16.2 times more valuable than Dell ($31.1 billion) and 10.1 times more valuable than Hewlett Packard ($50.3 billion). Apple is about 2.5 times as large as Google ($202.1 billion) and a little less than twice as large as Microsoft ($269.6 billion).
5. Even the Saudis Can't Compete with It
Saudi Arabia is currently the largest oil producing nation of the world, with mindboggling revenues coming their way. Even if KSA uses all of its oil revenues to buy Apple, it would take them minimum 15 months to generate $506.2 billion needed to purchase the company at its current value.
6. Highly iTuned to Accounts
Apple currently holds 800 million iTunes accounts. That's 800 million credit cards on file, which is more than any other company in the world.
7. Rocketing in China
Apple did $9.3 billion in China revenue, standing at the top of the list of international companies in China.  This is how much it was doing in the U.S. three years ago. By next quarter, plans do more in sales in China than it does in Europe.
With such astounding growth standards, Apple has clearly set sky high standards for its colleagues. If such progress continues, then it would not be shocking to hear one day that Apple acquired United States of America!