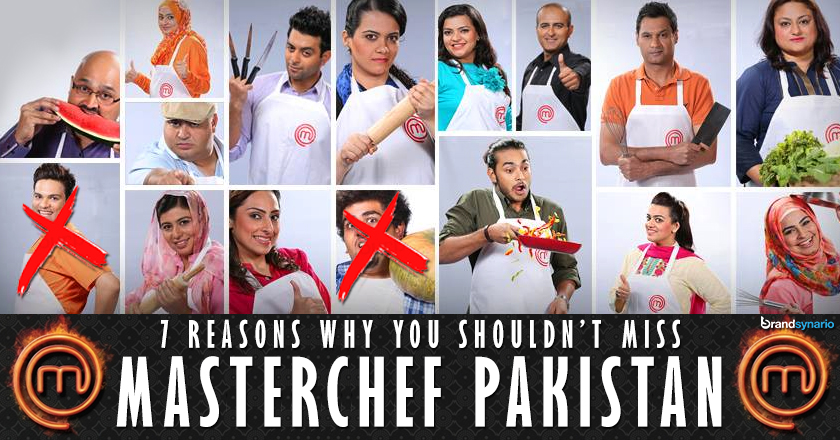 A whole month of food fusions, dish disasters, rewards and tears: MasterChef Pakistan has now reached down to its final fourteen cooking enthusiasts.
While MasterChef's official franchise was already quite popular amongst the local audience, its launch in the nation was a cherry on the top, bringing a decent blend of food and entertainment for the first time to Pakistan's Television screens.
To no one's surprise, MasterChef has made us all addicted to it, being as good as any of its international counterparts. With every new episode, the show is becoming an exhilarating sweet and sour roller coaster ride for its contestants and viewers alike.
Check out our top seven reasons to watch and fall in love with MasterChef Pakistan.
1. Pakistani Culinary Talent Unleashed
You will certainly be surprised with the amount of knowledge and creativity the contestants possess. Only MasterChef has provided such a platform to cooking lovers of showing their cooking flair to the world.
2. Cooking Turned Cool
While MasterChef Pakistan has opened a new window to the culinary cosmos, it has made cooking less boring and all the more exciting, making you love every bit of it.
3. A Fun Way to Learn About Food
Gone are the days when learning to cook was just straight from a food mag or a "Zubeida Apa" show. Now switch on to MasterChef and get a variety of cooking tidbits, which probably no food show offers you.
4. It Even Inspires You to Cook
Those who hate cooking will too slowly fall in love with MasterChef, bringing out the little chef in them to step inside the kitchen and stir up some dishes of their own
5. An Entertainment for the Entire Family
The best part about MasterChef Pakistan is that it's an ultimate package of decent glamour and excitement for a family to sit and enjoy together.
6. It has a Lot more than Just Korma and Pulao
We all had enough of the usual recipes of "Handis" and "Biryanis'" from everyday cooking shows. At MasterChef, you will find contestants cooking creative fusions you have never heard of like Caramalized Banana & Ricotta Crepe, Chicken Rainbow Kebabs and Mexican Enchiladas with Salsa sauce.
It's an absolute proud moment to see people from all parts of our nation and all spheres of life with remarkable culinary abilities, competing with each other on a worldwide recognized platform of MasterChef Pakistan.