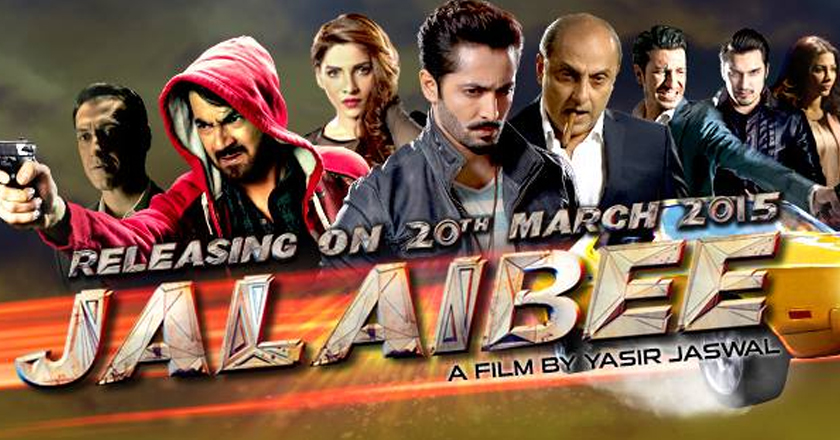 Continuing with the rebirth of cinema in Pakistan, 'Jalaibee' Pakistan's first crime caper is all set to release on 20th April 2015. Packed with a multi-talented cast, state of the art animations and a Ford Mustang, the movie is currently the second most awaited thing in Pakistan, (ofcourse after World Cup trophy rules above all).
The movie's cast is currently busy with myriad of events and meet-ups to promote their upcoming flick among the masses. The promotional activities are also active on social media platforms with multiple contests, courtesy Jalaibee's digital PR agency – Synite Digital.
While there is still a week's time left for the official release, we bring you some unheard and exclusive details about the movie that will definitely convince you to give it a watch!
1. Animated? Or Not?
Sure to be one of its kind (yet) – the movie boasts animations, right in the middle of the scenes. and that's not all – The movie has been shot by ARRI Alexa camera used for the first time in Pakistan.
2. 8 Lead Characters – Say What?
Yep, 8 main roles and all of them represent people from various sides of life. It's about some groups of people that get tangled into a situation – thus the name 'Jalaibee'. You can be sure that it's got a rich and happening story.
3. You Get Gold If You Watch 'Jalaibee'
What could be better? You get gold to watch a movie! Gold worth the amount of the ticket will be given to all movie goers. Only Bahria Town residents (Lahore) apply for it though.
4. It Has Already Made 5 Million PKR At The Box Office.
It's got to be one heck of a movie to already have made that much money – BEFORE ITS EVEN RELEASED! Courtesy, Bahria Town owner, Malik Riaz.
5. Zhalay Sarhadi's Item Song
Zhalay is an 'exotic dancer' in the movie and ofcourse, there's a hot and steamy performance. Jaswal denies that the performance is an 'item song'.
6. It's Got Dark Humor – Not Your Usual Comedy
Not your average crime story, 'Jalaibee' has elements of dark and rather morbid comedy and ofcourse adventure.
7. It's Got a Ford Mustang!
C'mon now, if for nothing else, you need to watch 'Jalaibee' for this! It's not just a car – it's a thing of beauty!
If this isn't enough then hear what the movie's director – Yasir Jaswal has to say about Jalaibee in our exclusive Brandsynario Chat session with our Managing Editor, Farhat Kapadia Mehboob.