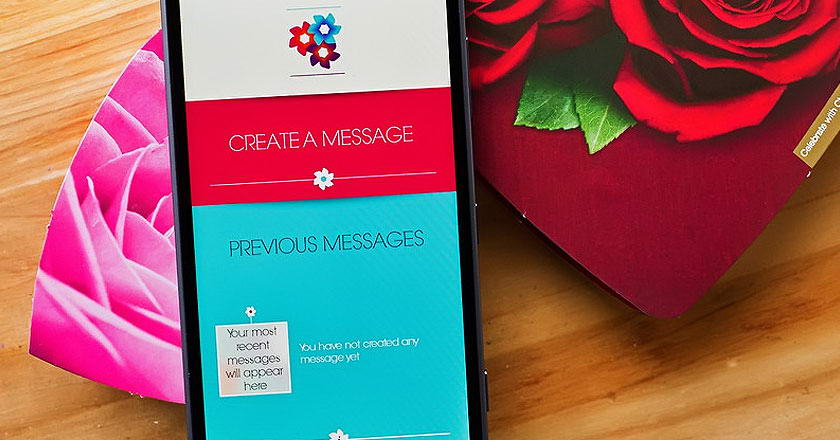 With the digital world seamlessly merging into the real world, it is no surprise that there are a number of apps to help you plan the most romantic day in the year. From planning a date to learning how to flirt and from making restaurant reservations to making your relationship stronger, these digital apps have got you all covered for Valentine's Day.
Here are our top picks for must-have Valentine's Day Apps:
1. 30 Day Relationship Challenge
This app is not just about planning one day a year with your special someone. It is about challenging your relationship and helping it make it stronger by doing something special on a daily basis rather than just one day.
You can use it a month before the V-Day or after it; either ways it will help you commit yourself to the relationship on more than just one day and show your partner just how much you love them.
2. Red Stamp
Thinking of sending a card to your partner on Valentines? Ditch the boring mass produced choices and go for something personalized! Red Stamp allows you to choose from hundreds of designs and customize to give the cards a personal touch. You can email it, text or send it through the good old snail mail to surprise your loved one.
3. Valentine's Day Special
This is the ultimate Valentine's Day app. From valentine's special recipe ideas to love poems and love horoscope, the app has got you all covered. You can send you special someone a romantic SMS or play some legendary love tunes during your date night in. The app works for singles too, you can get some tips to ask your crush out on the romantic day or you can check your compatibility with them using the love meter before asking them out.
4. Couple
Tired of your friends complaining about you sharing your special moments on social media?  Start using the Couple app! The app allows you to share each moment with your partner, send private messages, schedule dates and helps you stay close in a long distance relationship.
5. Yummly
Want to avoid the Valentine's Day rush in the restaurants? Or maybe, you simply forgot to make a reservation? Download the Yummly app and cook something special and stay the night in! The app is like your digital recipe book, bringing to your phone, recipes from around the world, based on recommendations customized especially for you.
6. TripAdvisor
Planning to go all out to surprise your Valentine? Download TripAdvisor and plan a romantic trip abroad. From booking flights to places to visit suggestions, the app can help you plan to the tee! Read reviews, ask for recommendations and get all the bookings done in one place!
7. Tinder
Still single? Find some digital love using the ultimate dating app Tinder! The app lets you go through potential dates' Facebook photos and find your match based on those!