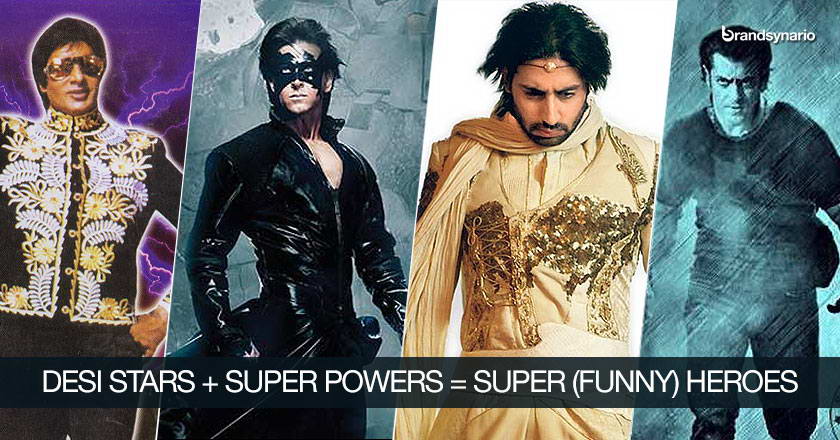 Bollywood's fascination with superheroes has led to many historical flops. Yes, we are talking about those ultimate failures that have been awarded powers time and over again.
If it was for the fancy glimmering clothes and emotional romantic looks that turn a hero a superhero, then Bollywood's King Khan or Big Bachchan would have been the saviors instead of Spiderman, Batman and Ironman.
But what if the Batman comes home late and instead of Alfred, is greeted by a typical Indian wife waiting for him at the dinner or what if Spiderman touched his mom's feet just before leaving for a fight? That's exactly how lame are our desi superheroes can be.
Here, have a look at Bollywood superstars who became tried to become superheroes.
Kick
Kick is the latest action flick of Bollywood that will have our Dabang Khan as a batman-gone-wrong. Our very own Dabbang Khan who has more powers than the combined Avengers team will be seen in a 'Devil' avatar with a black mask covering half of his face.
By the looks of it, Kick sadly looks like another one of Salman's larger than life movie with a mask in it, have a look at the recently released trailer of Kick:
Krrish 3
A hero that flies and shoots with laser beams like Superman, has power like Hulk, uses technology like Ironman and jumps like Spiderman, well what do you know, it's none other than Krish aka Hrithik Roshan.
Thus, all the impossibilities combine together and you get a Bollywood superhero which can single-handedly defeat any Hollywood superhero; well what do you know, it's time for batman, Superman, Ironman and every other Hero to go home because Krish is finally here and still he hides behinds a mask, why? An ultimate superhero who wants to hide his identity, this is Krish.
Ra-One
SRK starred in this one. Wait, does that mean a Bollywood all time romance king gets to be a superhero game character? Like why? Where the hell were all Bollywood action heroes?
It's a superhero movie that features SRK who makes the leading game character just like himself.
The game worth millions of dollars seemingly has only three levels with only two characters that keep fighting each other, i.e. G-One (SRK) and Ra-One. Seriously, like isn't it simply better to play Street Fighter instead?
Talk about 3D animations in games, this one even beats PlayStation 4's graphics, check it out:
Jadugar
Amitabh Bachchan as Bhootnath, okay that probably acceptable. But him trying to magic the world out of danger, saving the day with his magical powers? Sorry, but that's not Amitabh. That's not even his style. Imagine the Big Bachchan just disappearing off from the place when surrounded by enemies instead of fighting his way out? Doesn't make sense does it? Just like the poster above doesn't.
Mr. India
When Batman's got Gotham and Spiderman is saving NewYork then why can't Anil Kapoor save India? Back in 1987, Anil seemed to be inspired with the idea of 'saving India' by becoming its first famous superhero, but how? By simply going invisible; thanks to a special invisibility watch, like WOW even Ben Ten's director couldn't think of this brilliant idea.
Drona
Drona, an already flop action flick, stars Abhishek in the most gay-ish attire, I don't know who designed the costume, but I hope the superhero's are not so gay in future. Like where's the manly look when you need it? Or did the junior Bachchan plan it like that? Who knows?