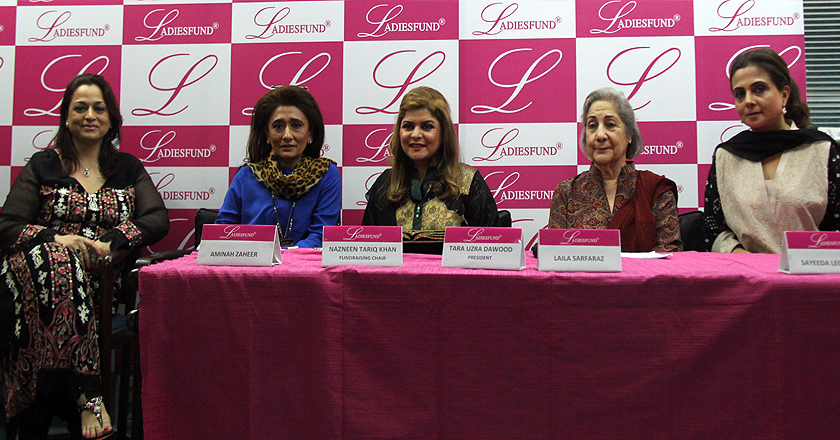 A press conference was recently held by the Dawood Global Foundation to announce the 6th LADIESFUND® Women Awards for Pakistan 2014, which will be held at the Mohatta Palace Karachi on  1st March 2014.
The event will host almost 400 women entrepreneurs who have made Pakistan proud both nationally and internationally,  by winning awards and by taking any inspirational step(s).
The show is sponsored by Dawood Global Foundation, Primus Investment Management Ltd., Khushalibank Ltd., Pioneer Cement and The Counsulate General of the Republic of Indonesia in Karachi and many more.
LADIESFUND® , establised in 2007 was formed with the aim of promoting Women entrepreneurship in the country and to provide moral and financial support to Ladies with entrepreneurial spirit, so that they can work towards the social and economical benefit of society.
LADIESFUND® is sponsored by some well known names in the industry including, Amir Adnan, Dr. Ishrat Hussain, Nasreen Jalil, Saad Khan, Syed Ali Reza, Sultana Siddiqui, Shafqat Sultana, Khalid Mirza & Byram Avari.
The press release was given by Tara Uzra Dawood, Aminah Zaheer, Laila Sarfaraz, Sayeeda Leghari & Nazneen Tariq Khan.
The President of Dawood Global Foundation, Tara Uzra Dawood  spoke at the conference  saying
"We are delighted to be holding the 6th LADIESFUND® Women's Awards for Pakistan 2014 where we continue to honour the most dynamic and extraordinary women in our country."
A member of the Awards Committee, Sayeeda Leghari also mentioned that,
"Appreciation is the  best form of encouragement and inspiration,"
The choice of this year's chief guests for the event were also revealed during the press conference, which included Souriya Anwar known for achievement of SOS Children's Village of Pakistan, in Lahore and Dr. Nafis Sadik who is accredit by USAIDS, presently stationed in New York City, USA.
The three main awards of the event including Trailblazer, Momentum & Woman of the Year will be based upon people's choice.
The nominations for the awards were declared by chairperson, Kamyla Marwi of Aman Foundation, and are as follows :
Trailblazer
1. Khalida Brohi
2. Nadia Hussein
3. Saima Mohsin
4. Sania Maskatiya
5. Shayan Afzal Khan
Momentum
1. Angie Marshall
2. Jugnu Mohsin
3. Naila Jamal
4. Noorjehan Bilgrami
5. Sehyr Saigol
Women Of The Year
1. Khawar Mumtaz
2. Musharaf Hai
3. Ronak Lakhani
4. Samina Baig
5. Yasmeen Lari
Laila Haroon Sarfaraz stated, "It is a real honor to have the chance to recognise and award the amazing and talented women of Pakistan. Being a judge for LADIESFUND® renews my faith in the people of my country."
The chair for Fundraising, Nazneen Tariq elaborated, "Educate a Girl is an initiative by Dawood Global Foundation and has a great impact on girls' lives and is extremely transparent."
Furthermore, she also announced 6 BBA scholarships for female students at Iqra University and 124 vocational scholarships to institute of Journalism, out of which 10 will be offered live.
Mehwish Khan, a vocational scholar at this moment described her beginning of success,
"Being selected as a LADIESFUND® scholar has increased my opportunities and is changing my life.  I've already been selected for a final interview at L'Oreal Pakistan, thanks to LADIESFUND® and its Educate a Girl programme."
Show your support to LADIESFUND® log on to CityFM89 or email at LFAwards2014@gmail.com, remember your precious vote can be the decision maker.