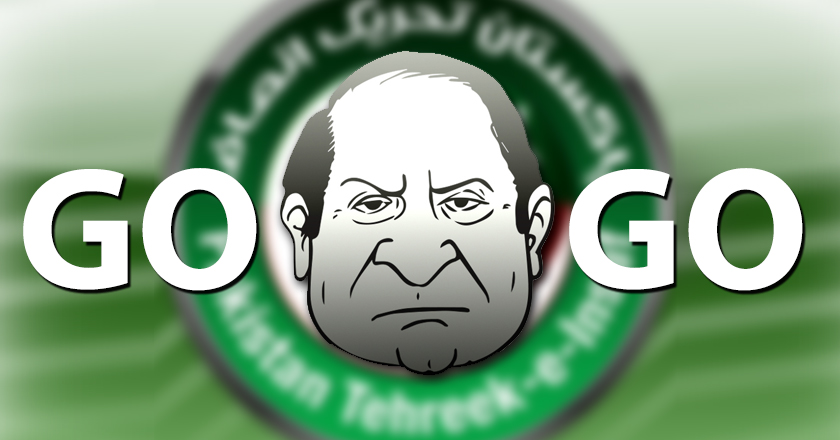 This blog post is written by Zenub Ayaz
Do you remember how simple things used to be? When kids use to chant 'Dil Dil Pakistan', bribes were taken and given freely, people lived in fear, did not ask for their rights, endured corruption – hell, they even let goons beat them to death without even saying a word in resistance.
All that has changed of course, if not completely than at least a glimpse of hope can be seen. Kids now a days chant, "Go Nawaz Go" – and by kids we mean, the morally uncompromised. Now they stand up for what they believe in.
Of course, then there are those who would not like this, the status quo – the VIPS of Pakistan – people drunk on power and oblivion to human etiquettes. What happens when these intoxicated thugs in white suits address a mass, on its preliminary stages of the big awakening?'
Well, this:
Have a look at what happened when Dr. Salman stood alone and chanted 'Go Nawaz Go" infront of the entire gathering- Check out
Dr. Salman tortured in PMA ceremony for… by awaztoday-tv 
And then, Hamza Shehbaz's address got ruined when people started chanting Go Nawaz Go during his address. Watch below;

"Go Nawaz Go" Chants During Hamza Shahbaz Address by arynews 
The same thing happened with Ahsan Iqbal, see for yourself

"Go Nawaz Go" Chants During Ahsan Iqbal Speech by arynews
 And most importantly,the Prime Minister himself witnessed the pressure when flood victims started chanting Go Nawaz Go, during his address

Go Nawaz Go and Go Imran Go k mixed naray by TheExpressNews .
Well this one is my personal favorite, see for yourself what happens when people caught Pervez Rashid on Lahore Airport,

Pervez Rashid Has Reached Minar-e-Pakistan He… by zemtv
And last but not the least, checkout how Atif Aslam replied to multitudes of fan chanting Go Nawaz Go

See the Voice of Go Nawaz Go in Chants Atif… by jawwadhussain12
PTI's official carol is now composed as a song by its official DJ, DJ Butt. As for the original chant, "Go Nawaz Go" is all over the place.  People have been chanting the mantra everywhere, be it Atif Aslam's concert or Pakistan Medical Association's gathering or Pervez Rashid's arrival at the airport.
Various incidents of the sort have happened with different members of PML-N, even Hamza Shahbaz and Prime Minister Nawaz Shareef himself have faced such situations.
So what do you think of these situations! Tell us in the comment section below.