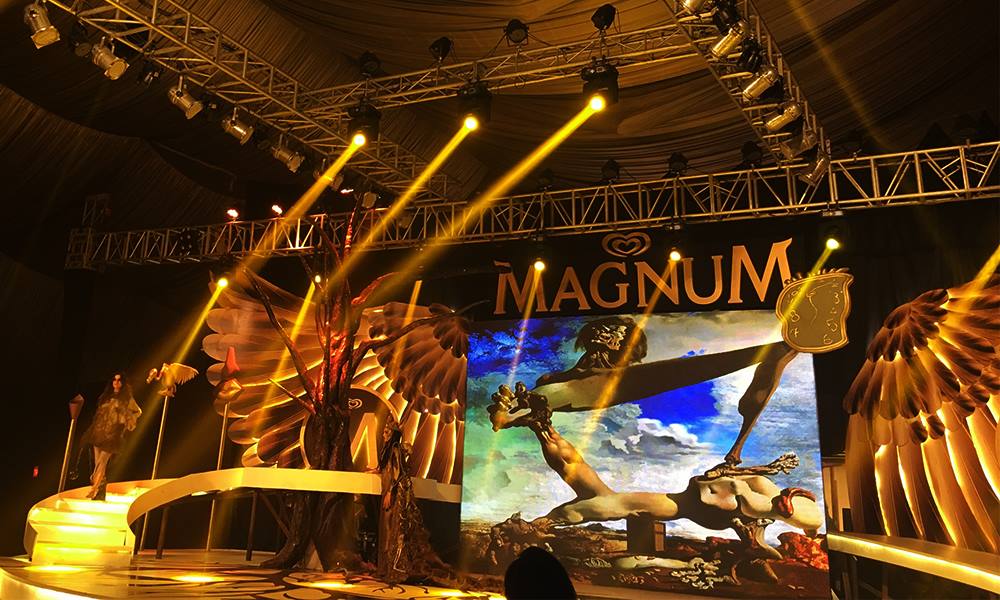 "Each morning when I awake I experience a supreme pleasure – that of being Salvador Dali." – Salvador Dali
This year the luxury brand Magnum took inspiration from the art of Salvador Dali based on the concept of Surrealism, exploring the depths of human imagination, challenging reality and promising a world of beauty where nothing is impossible – welcome to the Magnum Party 2016.
Just like the pleasure that engulfs you when you take that first bite of a Magnum, this year's event had you taking that first bite over and over again.
 The Great Hall of Installations
Down the Chocolate Carpet, through a red dress and voila, we found ourselves in a wondrous place surrounded by Daliesque paintings and where statues are alive. Sameera Raja of Canvas Art Gallery worked with local artists to put together this surreal setup. The gallery featured artworks created by Muzammil Raheel, Aamir Habib, Tapu and Maria Khanamongst. Inspired by Chocolate, Surrealism, & Dali, the Magnum Party 2016 was a celebration of art and we enjoyed every bit of it.
Chocolate Decadence
Chocolate like you've never imagined it – fountains, sculptures and treats all made from surrealistic Magnum were nothing short of divine. The Chocolate Table was the creation of the well-known chocolatier Amna Tauqeer. Apart from the velvety chocolate fountain, cupcakes and magnum ice cream, the table also featured creative artsy installations all made from chocolate. Guest could go indulge any time they wanted
Dance..for Inspiration
Beautifully choreographed dances by Wahab Shah were symbolic, tapping into the imagination of all who viewed them.
Ali Zafar displaying his artistic talent and chivalry too !
We are well acquainted with his vocal cords, but here at the party we got to see him create a live painting on stage not with paint – yes stretch your imagination… chocolate! The artwork was titled "Will you still love her", a concept created by Ali Zafar himself. Adding to the drama, the artistic performance was accompanied by a beautiful dance by Joshinder Chaggar.
Ali Zafar enthrals the audience with his live painting at the magnum chocolate party @MagnumPK @brandsynario @AliZafarsays pic.twitter.com/to6pEb0JYP

— Farhat K Mehboob (@FarhatKMehboob) September 22, 2016
His charm didn't end here – quick to the rescue, Ali alighted on stage to help model Tooba Siddiqui with her dress on the ramp.
Fashion that challenges your imagination
Since the theme of this year's party was so extraordinary, the choice of designers for the fashion presentation was crucial. The list was finalized with designers who had a flair for theatre and extravagance and could do justice to the theme. Chosen for the event were Ali Xeeshan, Faraz Manan, Shamaeel Ansari and Nilofer Shahid. Each showcased their own interpretation of surrealism in various different ways and left the audience in awe with their larger than life collections.
Shamaeel Ansari 
Shamaeel Ansari opened the fashion extravaganza with a collection that depicts a woman in love and the moods and emotions she goes through. "It is about negating the contradiction between dream and reality " In love at times the line between reality and dreams blur, leading to a surreal experience.
The Collection
Faraz Manan
This collection was inspired by Duomo in Milan. His design philosophy uses a blend of melting chocolate and caramel, fusing velvety textures and fabrics with the artful genius of Dali.
Ali Xeeshan
This is one designer who is never afraid to stretch the boundaries of his imagination whether it is in the use of color or design. Most of his collections veer towards fantasy and the Magnum Party 2016 collection one was no exception. He focuses on the power of a woman who gains almost supernatural powers through love whilst taking inspiration from daily life. The woman is ever evolving changing into a beautiful creature.
Nilofer Shahid
The most visually stunning collection of the night, Nilofer Shahid's collection brought to life Dali's paintings. She depicts the paradoxical nature of man that struggles between good and evil, passing through phases of decadence leading ultimately to the triumph of purity.
The Man