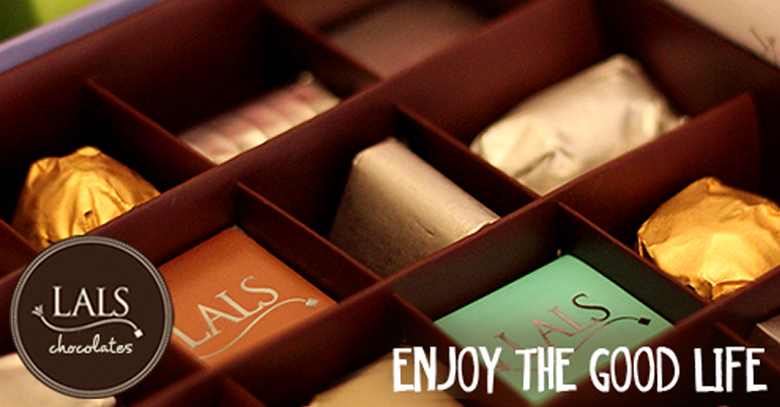 By Momina Khan
Chocolate coated almond biscotti, round cocoa dusted truffles, bite sized ganache frosted cupcakes and chocolate éclairs, chocolate chip cinnamon rolls – you can just name the mouth-watering delicacies and Lals will have them all.
Established back in 2006, Lals Chocolate has successfully made thousands of people fall in love with their delicious home-made chocolates and exquisite packaging.
Lal Majid, the proud owner of Lals Chocolates initially started out as a floral designer 15 years ago. After six years of experience and numerous courses, she decided to make the final move by launching her own chocolate brand in Pakistan.
Commenting on Lals' evolution she said, "We started off with one shop at Zamzama and two in Lahore. Initially, I had to take numerous courses; chocolate, pastry, baking, bread, packaging, product making. To create a product, you have to do everything yourself from scratch because a little problem can take your brand image down, hence you have to fully take charge of the business."
In her response to the question on why she chose to launch Lals as a brand , "See, there isn't any such good chocolate in Pakistan, no real chocolate. Chocolate here is not 100 percent pure, which isn't all that great. We have other foreign names but there isn't any local chocolate brand.  So we thought we should come with our own chocolate and our own local brand. Also, it was my son's vision that I should make my own Pakistani chocolate brand. And that's how Lal's came into being."
She further added, "Lals is different because it is 100 percent pure that means it is real chocolate. It is high-end chocolate, Belgium chocolate. We have our own place, storage and cold room. It is where we melt and temper chocolate. Tempering is necessary only for real chocolate which contains cocoa butter, not for compound chocolate.
Lal Majid has a team of trained professionals working under her. Her young daughter Madiha Sultan-Tai represents the company as its CEO. 
A strong supporter of team work and training, Lal Majid commented, "We are now a team of about 45 people, out of which 12 to 13 have specialized. I believe in team work. I have trained my staff so well, that I think they are now much better off than me as well. I believe in proper training. Also, when you put in so much effort, you don't want a single drop of your chocolate going to waste so you want everything perfect. That is the case with me."
Chocolate making is not just a mode of business but a passion for her, she talked about her daily routine saying, "I start my work after Fajr because that's the best time to start working. And when you're too involved, you don't want disturbance. I love working. I often refer to my house kitchen as my laboratory."
Lal's beautiful packaging makes their chocolate all the more appealing, talking about her expertise in packaging she said, "During my floral business, I also used to do packaging. Six or seven years after I started my floral business, I specialized in packaging and ever since then, I have had developed profound interest in packaging. I do all the packaging myself."
We asked her to give us  six reasons as to why she personally felt that Lals chocolate is better than other international chocolate brands like Cadbury, Hershey's etc. She responded with the following points,
"1) We are the only local brand who makes and sells macaroons in Pakistan, 2) We use real, high-end, Belgium chocolate which is 100 percent pure chocolate, 3) Our innovative and beautiful style of packaging that is all done by me, 4) We do dessert buffets and dinner parties too, 5) We have a long list of corporate clients and finally, 6) We offer personalized chocolates."
As for her personal favorite she believes, "Our very own French Macaroons. Macaroons are pastries made out of almond, sugar and egg. We are the only ones in Pakistan who make and sell macaroons and they are indeed, very delicious."
With three branches today — two in Karachi and one in Lahore — the mother-daughter duo is planning to open a Lals in Islamabad next.