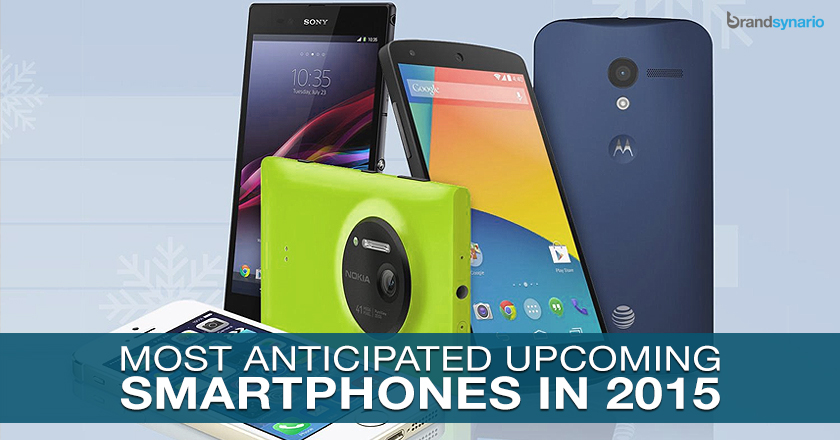 Smartphone users have a huge variety to choose from every day – from iPhone 6 plus, to Nexus 6, from Amazon Fire Phone to Sony Xperia Z3 and the list goes on! The New Year promises to bring even better choices of smartphones for technophiles.
We saw some amazing changes in smartphone industry this year. Anticipation are higher from Microsoft's' flagship phones, HTC M9, Galaxy's latest edition and of course the next iPhone – for now let's take a look at some of the most anticipated upcoming smartphones in 2015.
Samsung Galaxy S6
With Samsung's Galaxy S5 failing to take over its own predecessor, S4, this time round, Samsung has decided to go all guns blazing with the manufacture of their upcoming release by designing it from scratch. Touted as the Project Zero, Samsung has kept the features of the new phone a secret. The rumor mill suggests that the new Galaxy S6 phones will have a unibody aluminum frame and a screen that is curved on both sides. With Samsung manufacturing the phones from scratch, you can expect some major retooling. The new Samsung flagship phone is expected to release in March/April 2015.
HTC One M9
HTC One M9, successor to the HTC One M8, is expected to release in a special HTC event in March 2015. Recent rumors suggest that the phone will not have the designatory M and will just be called HTC One Hima or HTC Hima. The device's body is expected to be made of aluminum silicon-carbide, with a 5.2 inch screen, camera with Optical image stabilization, probably operative on Android Lollipop 5.0, featuring Snapdragon 810 processor and 3GB RAM.
LG G4
With the Korean tech giant's astounding success with LG G3, the new flagship device LG G4 is expected to offer a lot more. Although, these are all just speculations, it is rumored that LG G4 will have a 5.7 inch screen with a bendable display, 4K resolution and sapphire crystal glass or Corning Gorilla Glass 4 protector. The software specifications will probably be the same as other anticipated smartphones with a Qualcomm Snapdragon 810 processor and Android Lollipop 5.0 operating system. The phone is expected to be revealed in March 2015 with the launch date slated for April 2015.
Microsoft Lumia Flagship
Earlier this month, Microsoft announced the dates for the launch of its new Windows 10. However, there is no news for the company to release its flagship phone any time soon. It is expected that they might release a smartphone good enough to compete with Android and others by September 2015, but till then the old Lumia 930 will have to do for Microsoft fans.
OnePlus Two
Those unable to afford the higher end smartphones were in for a delightful surprise with the release of OnePlus One smartphone. A Chinese brand OnePlus gave some tough competition to the more expensive phones by launching an affordable but equally great smartphone. What is more amazing is that OnePlus plans to release a new flagship smartphone OnePlus Two in the second or third quarter of 2015. How the brand improves on with the new phone is yet to be seen but rumors have it that they new phones will feature Qualcomm Snapdragon 805 processor, a home-grown custom ROM, 3GB RAM, 16 MP camera and 3,300 mAh battery.
Xperia Z4
Expected to be revealed in March, Xperia Z4, one of the most anticipated smartphones of 2015, will act as the predecessor to the much popular Xperia Z3. Some of the pictures of the upcoming phone have been released as part of the Sony Entertainments digital hack and they reveal the new phone featuring a glassy design. Moreover, the rumored specifications for the smartphone are mind-blowing: 5.5in phablet with a Quad HD (2560×1393) screen with Adreno 430 graphics, 2.8GHz Qualcomm Snapdragon 810 octa-core processor with a 4GB RAM, LTE Cat 6, Bluetooth 4.1 connectivity, camera with a 20.7Mp curved Exmor RS CMOS sensor.